Reese Witherspoon's #AskHerMore at Oscars: 'We're more than just our dresses'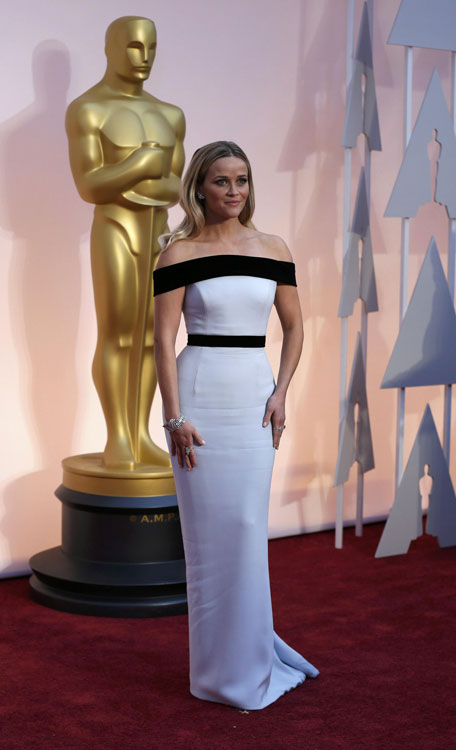 "This is a movement to say we're more than just our dresses," said Reese Witherspoon at the 87th Academy Awards about the #AskHerMore campaign, which encourages red-carpet reporters to go beyond fashion and focus on the work of actresses as well as behind-the-camera talent.

The Representation Project, which sprang out of the documentary "Miss Representation," launched the campaign in 2014 by using the hashtag #AskHerMore on Twitter, urging reporters to ask actresses more substantial questions, rather than the classic awards season question "Who are you wearing?"

The hashtag was trending throughout the Oscars red-carpet show on Sunday night.

"Reporters often focus more on a woman's appearance than what she has accomplished," said a blog post on the organization's website.

Amy Poehler's Smart Girls website has also supported the movement to focus on more substantial questions, while several websites offered sample questions for reporters.

And the women of Hollywood agree: Cate Blanchett made a statement at last year's SAG Awards when she called out a cameraman for panning up her body, asking him if he does that to the guys.
Witherspoon, along with Julianne Moore and Jennifer Aniston made headlines at the 2015 Screen Actors Guild Awards when they refused to put their hands in E!'s mani-cam.

At this year's Oscar red carpet, Witherspoon commented further about the sentiments behind the campaign.

"It's hard being a woman in Hollywood -- or any industry," Witherspoon said. "This is a group of women ... 44 nominees this year and we're so happy to be here and talk about the work we've done."

E!'s decision to not use the mani-cam at this year's Oscars suggests that #AskHerMore may be sparking change.

Fashion is an integral part of the red carpet, but going forward, reporters may take pains to include both angles. The Go Fug Yourself bloggers offered their fashion-centric perspective, tweeting "#askhermore is great, but it's ALSO okay to ask/say who you're wearing. You got it for free. It's a transaction. Tip your server."
Follow Emirates 24|7 on Google News.