Salman Khan's Mumbai Heroes in first cricket win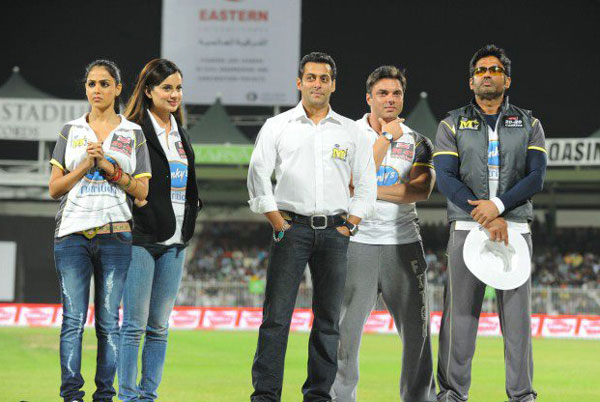 Salman Khan-powered Mumbai Heroes delivered their first victory of Celebrity Cricket League season 2 by 23 runs over the mighty Chennai Rhinos.
Cheered on by thousands of their fans in the Sharjah Cricket stadium on Saturday Mumbai Heroes were fully charged.
After a nail-biting tie in the first game of the season this Friday at the same venue the team led by Suniel Shetty proved that they were not to be taken lightly this season.
Mumbai Heroes skipper Suniel Shetty won the toss and opted to bat first on a pitch that promised a cracker a match for those present at the night in Stadium.
After the festivities of Day 1 it was time for some serious cricket on day 2.
Mumbai Heroes owner Sohail Khan who was still seething form their loss to Chennai Rhinos last season set the tone for the evening, "Last time when we lost to Chennai I told their captain that next time we will definitely beat them!"
At their home ground in Sharjah, the Mumbai lads turned the heat on the Chennai superstars and up a strong batting performance.
Raja was the top scorer with a swashbuckling half-century. Raja was well-supported by 'Mast' star Aftab Shivdasani who made a valuable 26. The duo ensured that Mumbai Heroes set a stiff target of 148 for the team from Chennai film industry.
When the Mumbai came out to field they were different team from the one that dropped almost 4 catches in the previous game a day before. Their captain Suniel Shetty set the standard who made some scintillating diving saves despite nursing a painful groin injury.
Friday night's villain in the filed Aftab Shivdasani took a difficult catch to make amends for his flip-flops in the earlier game where he dropped 4 catches.
Chennai's batting suffered a major setback when Mumbai's Sunny dismissed their opener in the first over itself. There on it was downhill for Chennai as they were denied any easy opportunity to score runs.
Salman Khan who had seen his team manage a heart-breaking tie just the last evening summed up his team's performance, "We have been working really hard to make Mumbai Heroes a strong cricketing force this season and the results are showing on the field today".
Mumbai's support team that included Genelia D'souza, and Kangana Ranaut among other Bollywood hotties made sure that mercury level never dropped even on a chilly Sharjah night.
When Mumbai Heroes finally won in the last over, after Chennai managed only 123 for 6 in their 20-overs, all the Bollywood starts travelling with Mumbai invaded the pitch.
Soon all the Mumbai supporters from Bollywood were hugging each other and the players carried their skipper Suniel Shetty on their shoulders off the pitch.
Mumbai captain Suniel Shetty said, "We were missing some key players in the side due to injuries but we will keep fighting like we did today till we win this tournament".
Raja was awarded the man of the match for his quick fire 52 that ensured Mumbai's first win of the season.
As a part of special presentation ceremony Salman Khan was presented with a special memorabilia. The memorabilia was a bat signed by Pakistan team that played the 200th ODI at Sharjah against Sri Lanka in November last year.
Follow Emirates 24|7 on Google News.