Exclusive: Shah Rukh Khan, Katrina Kaif to perform live in Dubai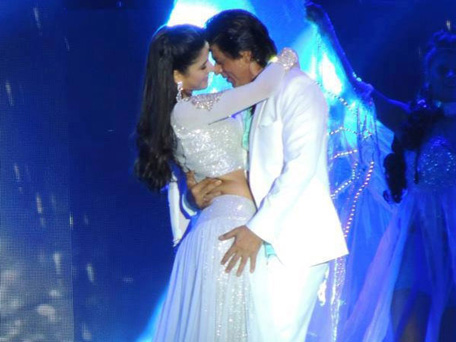 We have got an update - and that too straight from the horses mouth, which might excite some die-hard Shah Rukh Khan fans in Dubai no end.
Mohammed Morani of Cineyug entertainment confirmed his plans to bring the Bollywood star to the emirate for a live show. He said, "Yes we are planning a live show with Shah Rukh Khan and Katrina Kaif, which will be part of 'Temptation Reloaded' Dubai leg."
Morani, whose company will be at the helm of the show, is in talks with at least two event organisers in Dubai. "We are still talking to people, let's see what is the outcome and, accordingly, we will decide on the date. The Muscat show was a huge success so Dubai was a natural thought."
The organisers are targeting October 24 as the probable date. "As of now, the artists have given their consent, so we are waiting for a promoter."
Shah Rukh Khan and Katrina Kaif rekindled their unmatched chemistry on stage during the 'Temptation Reloaded' tour in Muscat.
The show was organised as part of the Muscat Festival. Officials from event management company, Light and Shadow Enterprises LLC, which organised the concert, said they were delighted with the success of "Oman's Biggest Live Concerts".
The two were joined by Preity Zinta, singer Ali Zafar and VJ-turned-actor Anushka. The show was a huge success and fans left the auditorium replenished with a complete dose of Bollywood romance.
Dubai has been stumped once before by Bollywood superstar Shah Rukh Khan and his leading lady Katrina Kaif.
According to some romours on the grapevine, the two actors had plans of coming to Dubai at the end of 2012 to do a live show. The organisers in Dubai allegedly had chalked out everything.
And the catch was - the dates were not confirmed either by SRK or Katrina. The organisers kept waiting to hear from the stars and their managers in India.
The wait just got too long and the next thing the fans know was that the 'Jab Tak Hai Jaan' couple were performing on Valentine's Day in Muscat in front of a jubilant crowd.
So much for the hype of a live show in Dubai.
In that background, the latest bit of news will be taken with a pinch of salt after all the brouhaha last year.
When Emirates24|7 tried to get in touch with the Dubai-based event organisers, they remained non-committal.
Well, all that can be said is once left high and dry, the fans would prefer to tread cautiously.
(Photos courtesy: Facebook - FRENCH SRK REVOLUTION)
MUST READ:
Nach Baliye 5: Shilpa Shetty, Farah Khan on the dance floor
Pregnant Kate feels baby move, expecting baby girl
Mummy fitness fight: Shilpa Shetty beats Aishwarya Rai
Follow Emirates 24|7 on Google News.