Exposed: Who dresses up Bebo and Priyanka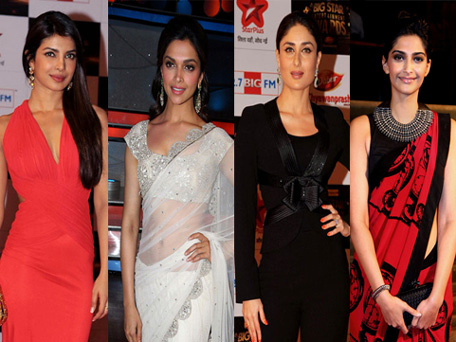 Ever wondered how Kareena Kapoor manages to impress on the fashion circuit, unfailingly every time?
And, she's not lone fashionista around. There's the vibrant Priyanka Chopra, the effortlessly chic Deepika Padukone and the eclectic Kangna Ranaut, who've all accomplished to remain united in their pursuit to stay fashionably ahead.
From puckering up their perfect pout to flashing their dramatic poses on the red carpet, to flaunting their exclusive designer wardrobe, every actress worth her celeb clout ensures they never commit a fashion faux pas.
With their every look being scrutinised and documented incessantly by the shutterbugs, there's just no scope for fashion blunders.
So, along with their entourage of publicists, man-Fridays, secretaries, make-up man, and the lot, actresses nowadays also pack along their exclusive tailor-made creative geniuses, who painstakingly work on transforming them into spectacularly dazzling divas every time they face the flashbulbs.
From the hairpins to the shoes, everything is meticulously researched, sourced and put together by this super-efficient lot. Everything from their head to toe is perfectly styled.
While some stylists remain exclusive to an actor, or two, others fleet in and out, depending on their assignments.
Their work starts with a simple brief, each differing depending on whether it's for the red carpet, movie, TV or film promotions. A mood board is drawn with suggested looks, which then awaits celeb approval.
Once that's accomplished, the stylists source the outfits, either from their own collection or from a list of top luxury labels. A fitting session is held to fine-tune the look, with the stylists finalising on the hair, make-up and accessories.
It's a tireless job, wherein stylists must also ensure their clients never make a fashion slip-up. Whether it is stylist Anaita Shroff's way of ensuring that "no two green dresses are slotted in the same season," or Ami Patel's ground rule of "always packing a back-up outfit", these experts watch over their Bollywood beauties with utmost sincerity.
Click here to find out the secret behind Kareena Kapoor's style
Click here to find out about Priyanka Chopra's style magic
Click here to find out how Deepika Padukone and Hrithik always manages to be perfect
Click here to find Kangana Ranaut's style mantra
Follow Emirates 24|7 on Google News.