50 Keralite singers to perform tonight in Dubai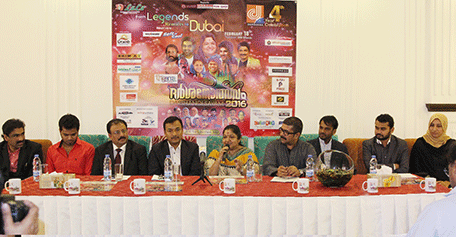 Around 50 Mappilaipattu singers from Kerala, India, will enthrall the audience tonight in Dubai, led by legendary KS Chithra and Vijay Yesudas.
Among the other well-known singers performing live tonight will be two of the oldest Mappilaipattu singers VM Kutty and Eranjoli Moosa at the Al Naser Leisureland at Darshanolsavam 2016 festival, a complete entertainment programme focusing on Mappilaipattu, the traditional Muslim song popular among overseas Keralites.
Speaking at a press conference on Darshanolsavam 2016, KS Chithra said: "I have visited Dubai several times to perform but this is first time that I am coming exclusively for a Mappilaipattu show, in which fifty Mappilaipattu singers from two generation will be perfroming live in Dubai. Normally I sing one or two such songs in stage shows, but now I am refreshing all the Mappilaipattu songs that I sung in the past for Darshanolsavam 2016," she said, adding that the music reality shows on Malayalam TV channels have rekindled an interest in the traditional music stream, which is popular among overseas Keralites, especially from Malabar region.
Mappilaipattu, an Arabic Malayalam blend of traditional Muslim folk songs which are an integral part of Malabari culture, is gaining popularity due to the proliferation of reality shows that hunt for young talent and the overseas Keralites.
Due to its popularity, there is a Mappilaipattu reality show on almost all the Malayalam TV channels and Darshana TV's Kuttikuppayam is gaining popularity among the expatriate children.
Speaking to Emirates 247, Anwar Naha, President, Dubai KMCC and Director, Darshana Middle East, said nine prominent Mappilaipattu singers, writers and music directors from the two generations will be honoured at Darshanolsavam 2016.
"This is the first time that singers like KS Chithra are coming exclusively for a Mappilaipattu stage show in Dubai. Mappilaipattu is an integral part of Kerala Muslim culture and we are planning similar shows across the Gulf."
Vadakara Krishnadas, M Kunjimoosa, Kozhikkodu Aboobaker, Eranjoli Moosa, VM Kutty, Bappu Vellipparampu, OM Kuruvarakkundu, Ramla Beegum and Vilayil Faseela, will also be honoured at the event.
Follow Emirates 24|7 on Google News.