Akshay Kumar's 'The Shaukeens' is a laugh riot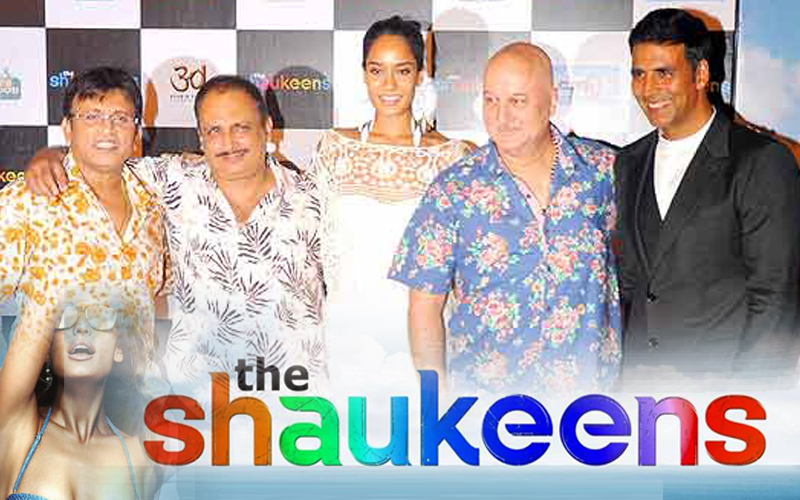 Given the number of remakes being churned out in Bollywood, it comes as a pleasant surprise to see one-movie-old Abhishek Sharma turn a 1980-hit adult comedy into something wickedly funny without ever reducing into a sleaze fest.
Instead, he retains the essence of the original, but lends his signature style by injecting the screenplay with humour and genuinely endearing characters.
He also ropes in Akshay Kumar to play himself, but lends him a little more colour by giving him a personality that's part his own and part fictional.
'The Shaukeens', much like the original 'Shaukeen', is a tale of three men struggling to find passion to spice up their old age. Their pursuit for "happiness" lands them on the serene beaches of Mauritius, where their sultry landlady unwittingly entices them into winning her over.
The men, flaunting their unkempt grey hair, paunches and hideous swimwear, are easily persuaded into "satisfying" their new "friend".
Director Tigmanshu Dhulia has spun a screenplay so sinful, and penned some witty lines that capture the lecherous deeds. And, that's a rare talent in Bollywood, where adult comedy blatantly lends a licence for being uncouth. Dhulia finds his match in Sai Kabir, who together rewrite the classic without adulterating it.
The narrative, packed with inane situations, numerous quirks and wacky oddballs, is lent a breezy pace by editor Rameshwar S Bhagat. It's only towards the nearing of the "happily ever after" that things get stretched and an unnecessary, flashy club song is inserted. It's a flaw that could've been avoided, but one we are willing to overlook as a trade-off for the steady supply of giggles and laughter.
Much of the movie rides on veterans Anupam Kher, Annu Kapoor and Piyush Mishra, who pump in so much fun and insanity, without ever indulging in buffoonery. They are wacky, no doubt, but they make their despicable endeavours appear awfully funny and genuinely innocent.
It's tough to pick a winner, considering each actor excels in creating their twisted on-screen images. Anupam Kher is outstanding as the wealthy Lali, who is torn between his family and his lust for a thrilling life. Dressed in silky pyjamas and overcoats, Annu Kapoor is superlative as the cocky gang leader KD, who constantly coaxes his buddies to abandon their domestic lives. But, the big reveal is undoubtedly Piyush Mishra, who squeaks and squeals, and twists his lips to make strange bids to win over the lady.
After her superlative act in 'Queen', Lisa Haydon smokes up the screen yet again, with her pouts and sizzling moves, but manages to shockingly retain an innocence and charm. Her Ahana is a free-spirited designer who recycles fashion disasters, one after another, with much glee, and only desires facebook glory.
But, among all this mayhem, it's Akshay Kumar who walks away with the top honours for poking fun at his reel image. He's got a sense of humour unmatched among his peers. "All I've been doing so far is climbing onto helicopters, and climbing off it," he quips. At another, he's desperately trying to please a Bengali filmmaker, so he can abandon the 200crore-club and win a national award instead. He's also seen slyly, swigging from his hip-flask, establishing an obvious disconnect from his real-life-teetotaller-image.
After creating the phenomenal 'Tere Bin Laden', Abhishek Sharma goes on to prove that he's got a funny bone unrivalled in Bollywood.
Follow Emirates 24|7 on Google News.