Bollywood debut of 'Hottest Indian Woman': Freida Pinto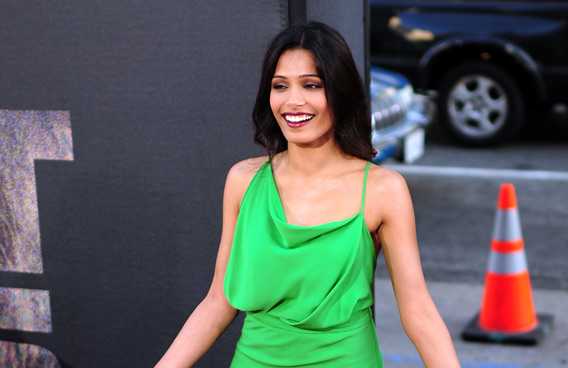 Freida Pinto has managed to sign her first Hindi film after an attenuated hiatus.
The pressure will be on her after GQ magazine picked her as the hottest Indian woman of the century.
Freida was earlier a struggling actress in Bollywood not managing any roles and only doing the rounds of various Bollywood production houses till the time she struck it rich with the Oscar winning Slumdog Millionaire.
Pinto modelled for four years and appeared in runway shows and magazine covers had learnt acting from Barry John's acting school and had also appeared in a few magazine covers and modelling assignments on the ramp and for TV commercials as well.
Her role as the girlfriend Latika of the hero played by Dev Patel ensured that she was a big name and soon she was flocked with various offers big and small.
But the actress has been rather a bit choosy about what films she was signing in Hindi. And now finally Frieda nas managed to sign on a project will be helmed by Navdeep Singh who had directed Abhay Deol earlier in the film Manorama – Six Feet Under.
Navdeep had also started off another film later with Abhay Deol for Irock Films and Balaji, but the film was shelved after a few issues between both production houses and Navdeep has now managed a comeback.
The said film will be produced by Phantom Films and will go on the floors somewhere by the end of the year. Pinto plays the lead role in the film and the guy to play the lead opposite the actress has not been finalised as yet. The toss up, we are told, is between a known face or a total newcomer with no baggage tags.
Freida at the moment is the highest paid Indian actress, and she may now be officially called as the highest paid Bollywood actress after she makes her debut in this film. The Daily Telegraph in an article three years ago had mentioned that Freida was holding this distinction at the moment.
Follow Emirates 24|7 on Google News.