Bollywood film review: Anywhere but this Akshay-starrer for 'Entertainment'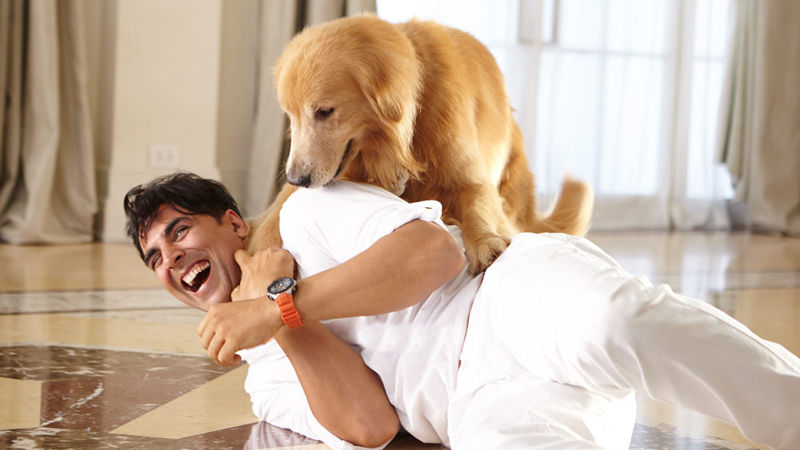 An open letter to Akshay Kumar...
Dear Mr Kumar,
I have spent the last 140 minutes reflecting on the words that would summarise the pain inflicted on an unsuspecting audience under the guise of 'Entertainment'.

Seeing you scream incessantly in the name of slapstick could even put a banshee to shame and does not qualify as entertainment. Watching you on screen in a fat suit, breastfeeding a baby is certainly not entertainment; in fact, it could possibly push a fan into despair.

Back in 1994 there was a struggling actor who showed a spark of brilliance as the restrained, understated romantic hero in 'Yeh Dillagi'. Your versatility shone through in your smart-talking, suave Sameer Malkan in 'Main Khiladi Tu Anari' that same year.

Twenty years and over 100 films on your career post, fans have clutched their sides as they laughed at your dry humour in 'Hera Pheri', shed tears with your desperate son vigil at his father's deathbed in 'Waqt – The Race Against Time', cheered for the simpleton from Punjab who fell in love with the sassy lass from England in 'Namstey London'.

So, the question that begs to be asked while sitting through this Farhad-Sajid film is this: what were you thinking?

An actor who has been awarded a Padma Shri, the fourth highest civilian honour in India, for his contribution to cinema, is reduced to accepting a script that keeps its sleepwalking star cast awake by shuffling them from one scene to another at a rapid pace while forcing them to scream loudly at the cameras.

No one would blame the poor pooch, which has grabbed the starring role in 'Entertainment' as the sole heir of a $3 billion empire after his rich owner (Dalip Tahil) dies, to take voluntary retirement from the spotlight.

If animals could speak, he would probably scoff at the sheer ludicrousness of a plot that sees his owner's illegitimate son and his best mate bumble about in attempts to kill him off so they could usurp the riches in the bank; all this before the duo turn into good guys to save the mutt and his money from evil family invaders possessing even more melodrama than Rakhee's obsessive motherly turn in 'Karan Arjun'.

Meanwhile, Tamanna Bhatia, your leading lady, can be let off the hook considering she was only hired to look pretty, prance around in four songs and mouth double of those as dialogues when required. Honestly, we wouldn't be surprised that she retires from Bollywood after this debacle and returns to Southern cinema. At least she lends more credibility to her name there.

As for your sidekicks in the film, Mr Kumar, namely Prakash Raj, Sonu Sood, Johnny Lever and Krishna Abhishek, what could they do but jump through the hoops set before them, while you stood in the centre as their ringmaster.

The Bollywood audience may still want their song and dance routines around trees in the exotic countryside, but what they also demand today with a growing level of maturity is the need of a decent script.

An A-list actor, such as yourself, can only take the film so far on the strength of his name alone.

Fans have faith in the stars they place on a pedestal. Kindly do not mistake it for blind faith.

Sincerely,
A Bollywood fan

Follow Emirates 24|7 on Google News.