Bollywood movie review: 'Mere Dad Ki Maruti', a fun-filled joyride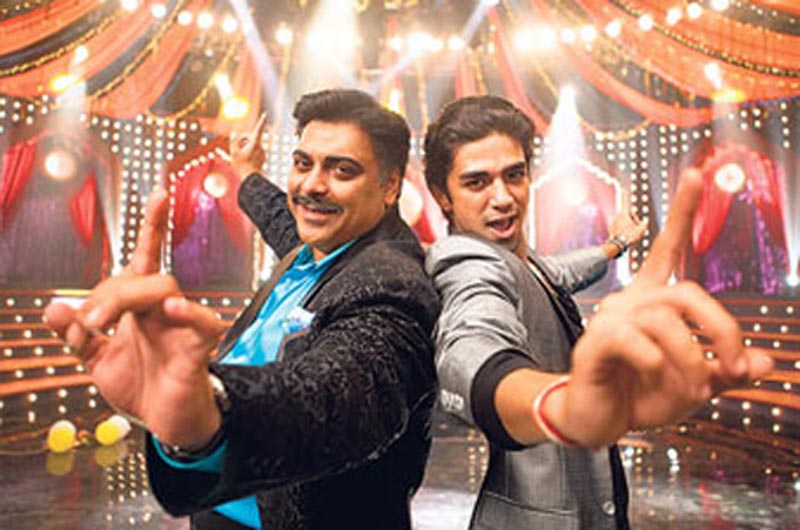 If you see the world through a Bollywood lens, everyone is born Punjabi, thus inheriting genetic traits that includes speaking Queen's English with such finesse that even Her Majesty would rewrite the rules of grammar; meanwhile, everyone's decibel level could give a complex to cricket commentators during an Indo-Pak final.
That is, of course, if the men behind the mics aren't Punjabi already.
Such clichés are the bottled formula mish-mash that most Bollywood filmmakers use as their Hail Mary pass when a script is weak and the star cast is even weaker.
However, every once in a while the right potion gets flung into the mix, resulting in a fun-filled concoction that keeps you laughing.
'Mere Dad Ki Maruti' emerges as this winning ride, maintaining its steady grip on the steering wheel, with a foot firmly positioned on the accelerator.
Credit for this fast-paced comedy goes completely to debutante director Ashima Chibber, who comes with an impressive resume that includes working as an assistant director on hit films such as 'Ab Tak Chappan' 'Chak De! India' and 'Rockstar'.
Chibber never lets up the pace, keeping the drama and the wisecracks at full speed, with a relatively short race time of 100 minutes or so.
Saqib Saleem, who debuted in 2011's sleeper hit, 'Mujhse Fraaandship Karoge' (also a Y-Films production), returns as a good-for-nothing college student Sameer, whose aim in life is to impress Chandigarh's Shakira, Jazzleen (VJ Rhea Chakraborty), while cowering from his father's (a hilarious Ram Kapoor) volcanic temper.
If the setting is Punjabi, then a wedding is only the perfect backdrop for some mayhem to ensue.
Such is the case for the Khullar family, which is in the midst of celebrating their daughter's nuptials, complete with a brand new Maruti car as the dowry to see off the bride and groom.
However, Sameer sneaks out the new wheels one night to impress Jazzleen and somehow manages to lose the car along the way.
Fearing his father's rage, Sameer, with the help of his best friend Gattu (a delightful Prabal Panjabi), embark on a road trip to replace the missing Maruti, with a little help of some neighbourhood goons and a carload of giggles.
Chibber, who has also penned the screenplay, along with Pooja Desai, Neeraj Udhwani and Ishita Moitra, comes up with some winning one-liners that keep the humour light and frothy, without ever going overboard in cheap slapstick that remains the norm with most Bollywood filmmakers.
Saleem appears confident for his second film, managing to hold his own despite some pretty impressive acting from the cast of 'Mere Dad Ki Maruti'.
As for Kapoor, full marks to this talented TV superstar, who walks the fine line of being the loud and overbearing Tej Khullar, whilst maintaining a certain restraint and dignity to a brash character that very few actors can manage.
Sameer's sidekick Gattu emerges as the surprise breakthrough act of the film, whose natural poise and killer lines are so familiar that most of us will certainly recall at least one friend who personifies this wit.
The rest of the band of merry Punjabis, including the Khullar family and Jazzleen, fit well into their roles; while, Ravi Kissen's villainous Pathan delights with his deadpan.
Back in 1995, 'Dilwale Dulhania Le Jayenge' set the benchmark for the perfect Punjabi family entertainer; perhaps, it's only fair that another Yash Raj production takes the mantle with fully charged batteries for gen-next.
Follow Emirates 24|7 on Google News.