Bollywood movie review: 'Murder 3' is a lazy attempt at a thriller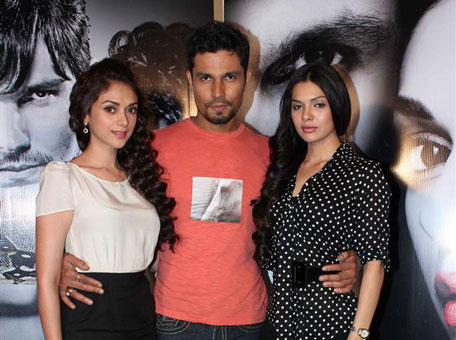 Despite a gripping plot, that's legally borrowed from Colombian movie 'The Hidden Face', the lack of cinematic clarity and any impactful performances, makes 'Murder 3' a clumsy thriller.

If anything, it does turn, unintentionally, comical at times.

The mediocre production value, innumerable sound tracks and a lengthy screenplay further slows down the pace of the film.

Although debutant director, and star kid, Vishesh Bhatt picks a not-so-ancient ambitious thriller to spin off his magic on, he visibly lacks the acumen to execute a suspense drama.

"He might've the backing of his famous, filmmaker uncles, but that doesn't compensate for his ineffectiveness and lack of insight.

And chances that most people have access to good international cinema, like 'The Hidden Face', could further dampen his efforts if any."

'Murder 3' tracks the life of a famed Mumbai photographer as his life gets twisted and turned when he's unable to muster the courage to control his roving eye.

Vikram moves from Cape Town to Mumbai, with his pretty, architect girlfriend Roshini in tow, only to find his life turned topsy-turvy. She suspects his infidelity and eventually, leaves him without a trace.

All she leaves behind is a video 'farewell' message.

He suspects something's amiss, and instantly informs the cops. They, in turn, wear a constant scowl and suspect him instead.

He doesn't pay any heed to the allegations, and continues to look out for her.

He mourns her loss for a few days, but quickly forgets and finds solace in a sultry bar-girl Nisha.

They hit it off, and she immediately moves in to his palatial house.

Vikram's quick change of heart tips off the police officers into distrusting his intentions, but there's nothing to prove he has blood on his hands.

His new love story too hits a roadblock after his ladylove suspects his mansion is haunted after experiencing some eerie activities.

Divulging anything more would be giving away the suspense of 'Murder 3'.

"Despite the obvious reference in the title, 'Murder 3', does not fit with its predecessors.

It would've, in fact, fit perfectly in the 'Raaz' series that the Bhatt brothers produce. A secret is all this one uncovers in the end."

What it does share with the other films in the disjointed franchise, is that all three movies are inspired from Hollywood blockbusters. While 'Murder' was based on 'Unfaithful', 'Murder 2' was influenced by 'The Silence of the Lambs' and South Korean thriller 'The Chaser'.

Performances by the leading trio isn't anything to write home about. Randeep Hooda, despite being hugely talented, appears awkward and uninterested as the snazzy photographer. His absurd hairstyle, unsure body language and tacky costumes don't match with his wealthy image. He's hardly the player, he wants us to believe he is.

Aditi Rao Hydari, on the other hand, attempts to paint Roshini in varied shades. She sensitively captures her vulnerability without going over the top. Even her unique sense of humour is endearing. But, she isn't constant, and therein lies the trouble. Even the make-up isn't natural, making a weak Aditi appear more clownish than deprived.

"Pakistani actress Sara Loren, who wears the key to the secret, is undoubtedly gorgeous, and flaunts her perfect body. But, like her peers, even she appears wooden and inept in her performance."

There's the Bhatt-camp's staple Goa homage, with their stunning heroine romancing her lover on the sandy beaches

With a tagline that reads – "Love will be murdered", it's a clear indicator of what lies ahead.

"Take my tip. If you've watched the original, don't even attempt this one, unless you have some good company."
MUST READ:
Nach Baliye 5: Shilpa Shetty replaced, 'Murder 3' stars on the show
Lady Gaga hides hip injury, now cancels all tour
Valentine's Day: Kareena wants more diamonds from husband Saif
Follow Emirates 24|7 on Google News.