Review: Nawazuddin is superlative in 'Aatma'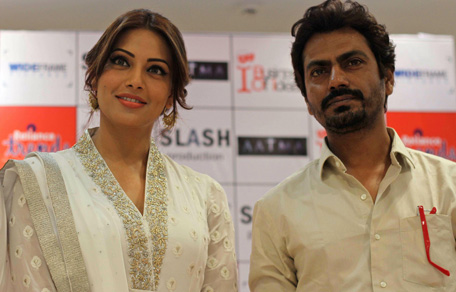 Despite packing in every plausible element that a typical spook fest demands, filmmaker Suparn Verma's trippy movie on paranormal activities falters and fumbles because of his inability to think out of the box.

He faithfully sticks within the parameters of the horror genre, attempting to haunt us with unappetising images and sounds that are unfortunately unoriginal.

Although he springs a few spooky surprises along the way, more often than not he prepares us much before most unsettling, creepy encounters begin.

And therein lies his inability to create an edgy thriller.

It's the hackneyed story, predictable narrative and the decision to give away way too much in the trailers that wrecks his maiden horror thriller.

Verma even matches step with Bollywood's unimaginative horror experts Vikram Bhatt and Ram Gopal Verma by puncturing his daunting narrative with a musical track.

Even though 'Aatma' has only a single sound track, its damage is significant.

While cinematographer Sophie Winqvist textures the movie in terrifying rain-soaked frames and Hemal Kothari edits the movie in crisp cuts, Verma is unable to tie them together in one tight, snappy tale.

That said, Verma manages to compensate for much of his oversight by casting the dynamic Nawazuddin Siddiqui, who unleashes a menacing reign on his family, as he journeys back from the dead to reclaim his only daughter.

'Aatma' centres around one-time married couple Abhay and Maya as they battle for their child Nia's love.

It's as much about a father's undying love for his daughter, as it is about a mother's unwillingness to make a sacrifice.

Even though Maya silently suffers abuses from her raging husband, she manages to cut him off legally but struggles to get rid of his devilish spirit.

'Aatma' scores mainly for Nawazuddin's spirited acting as the ruthless, diabolic father, who goes about punishing anyone and everyone and who taunts, punishes or teases his little girl.

He's merciless as the unforgiving husband who tortures his wife but stops only when he thinks his actions might have woken up his sleeping daughter.

Nawazuddin displays remarkable finesse in creating the conflict-ridden Abhay who turns from doting father into an abusive husband quickly.

Much as we would have liked to see Nawazuddin in every frame, Suparn focuses instead on the vulnerable Bipasha, who flashes her makeup-less face and lean legs as she battles a temperamental husband and runs and screeches to escape his clutches.

Her struggles, however, are frozen in one expression, reflecting her inability to lend versatility to her character.

Doyle Dhawan makes an almost compelling acting debut as Nia, and she's got her lovely curls to thank. But there are a few sequences where she appears lost and uninvolved, and we've got Verma to blame for that.

In the supporting cast, Verma packs in horror-movie staple Shernaz Patel as Maya's supportive mother who appears to have walked straight out of the set of 'Talaash', and the talented Tilotima, whose short-dressed teacher act is one of the most arresting in the movie.

Verma shows his weakness in an unconventionally shoddy end, making this horror trip rather uninspiring. And, coming from a very faint-hearted soul, it's saying a lot.

Follow Emirates 24|7 on Google News.