Bollywood movie review: Zila Ghaziabad is an assault of the senses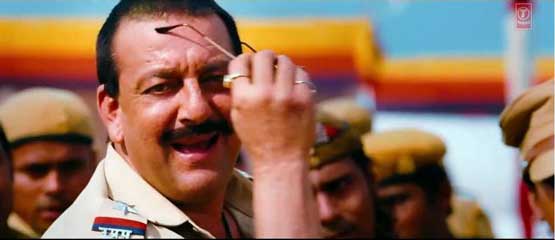 Every once in a while comes a movie that makes you wish you were rather watching Ram Gopal Verma's 'Aag' instead.
'Zila Ghaziabad' comes within a hair breadth of making that ultimate sacrifice.
Directed and penned by Anand Kumar, the filmmaker makes a desperate attempt to bottle the Quentin Tarantino formula that has fascinated fans and industry critics alike in Bollywood of late, with Vishal Bhardwaj's 'Kaminey' and Anurag Kashyap's deliciously wicked 'Gangs of Wasseypur' being the most recent masterpieces.
However, Kumar's 'Zila Ghaziabad' is not a patch of what the two veteran directors captured on celluloid. In fact, the proceedings turn so painful after a while, that instead of the statutory warning over the perils of smoking that flashes every few minutes of the film, it should also come with one for manic depressives.
Watch at your own risk as it could possibly push you over the edge.
Allegedly based on the bloody history between two rival gangs of the depicted lawless district in Uttar Pradesh, the film narrates the story of an educated do-gooder Satbeer Gujjar (Vivek Oberoi), who is forced to replace his pen with a .22 calibre pistol when he is falsely implicated in an attack on local gangster, Fauji (Arshad Warsi).
The waters get murky, the politics is dirty and the body count fills up half the district during this reign of terror.
Finally, the cops wise up and decide reinforcements are the need of the hour. Enter Thakur Pritam Singh (Sanjay Dutt), described as hoodlum first, a man of uniform later.
If his character starkly reminds you of Salman Khan's loveable portrayal as Chulbul Pandey in 'Dabangg', you wouldn't be too off the mark. Except that Dutt's Pritam Singh is neither loveable, nor funny.
Plus, what's with the background score from Sanjay Dutt films of yore? All Kumar manages to remind viewers is that there was a time when this actor shone in movies such as 'Saajan', 'Khalnayak' and yes, even 'Thanedaar'.
If this is what Dutt is reduced to, then maybe he should seriously consider retiring.
As for Oberoi, the actor that showed so much promise in films such as 'Company' and 'Saathiya' is now a myth, some urban legend that is a sad, living example of talent that never had its chance to shine due to some bad decisions on and off screen in his career.
The only actors who bring sincerity to their cumbersome roles are Warsi and Sunil Grover, who plays Fakira, a weasely minion who hatches the conniving plan that sets off the gory chain of events.
Meanwhile, the female leads in the film are simply wasted. Minissha Lamba, who remains nameless in the film, has four scenes and equal number of lines to mouth here, while Telugu actress Charmy Kaur has no screen presence.
One actually feels the need to weep when a talented actor such as Divya Dutta is sidelined to play some mediocre role, with her appearance so butch that you wonder what the filmmaker was trying to portray here.
Usually, when the plot has more holes that a sieve, you can usually count on the film's music to pep up the proceedings. Sorry to say, but there's no such luck here.
'Zila Ghaziabad' is a fine example of a waste of budget that could have been put to better use by donating it to the civil government of the district the film is named after.
Follow Emirates 24|7 on Google News.