Bollywood review: Ajay Devgn catwalks through 'Singham Returns'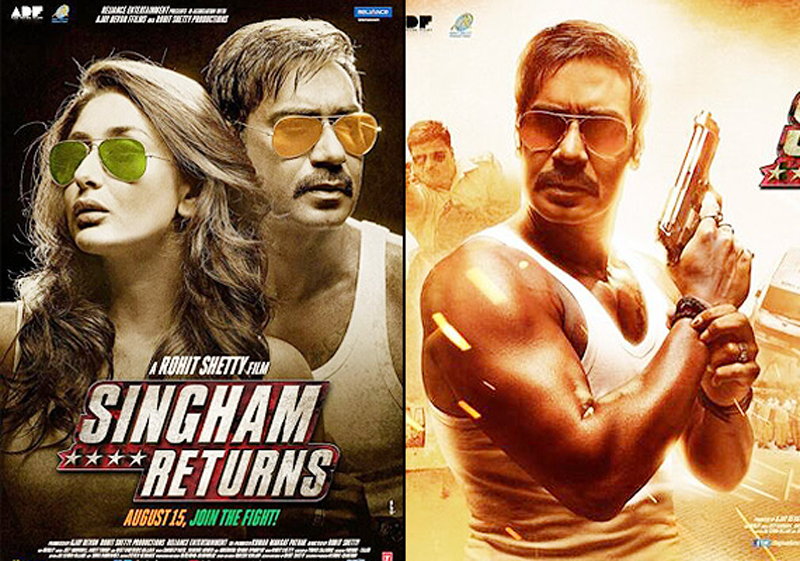 Forget flexing his muscles and boxing baddies with swift punches, Ajay Devgn spent much of his time catwalking through Rohit Shetty's two-and-a-half-hour-long, schizophrenic action-thriller. It's when he occasionally removes his aviators that you get a sense of his actual pain.

Had Steven Benard used his skills wisely on the editor's desk he could've easily chopped off the hero's innumerable slow-motion walks, reducing the movie by an hour and bringing ample relief to viewers.

But, that was not to be.

Instead, Rohit Shetty insists on making his hunk of a cop Bajirao Singham walk a lot, each time in slow-motion with deafening background score. And when he isn't walking, alone or with his cronies, he is busy indulging in vintage Rohit Shetty gimmicks. From flying unaided to kicking unsuspecting baddies mid-air to slapping anyone offering him a kickback, to blowing up cars, Bajirao is seen unabashedly flaunting his super-powers.

Unlike most Bollywood sequels, Shetty's Bajirao's temperament, philosophy and dialogues remain strangely in sync with the original. If anything, it is his decision to cut down on his vocal chords and to focus instead on reforming the youth of the country that appeared different.

It isn't anything drastic but hints at Rohit Shetty's attempt at innovating his unmatched style of filmmaking. While it is wasted on me, I'm sure he has his loyalists who will applaud these efforts.

Ajay Devgn pretty much sleepwalks through 'Singham Returns', and that is a feat considering his overzealous co-star and on-screen lover Kareena Kapoor is screeching and tweaking her facial muscles with impeccable flair. From belting scrawny journalists to being titled YouTube sensation 'Lady Singham' she's absurdly energetic throughout the film. For an actress who claims to possess immense acting talent, this is by far her most unrestrained and rather painful performance.

It's when the lone romantic track kicks in an hour into the madness that you see Bebo's relief. And mine too.

With 'Singham Returns' and the earlier box-office dud 'Satyagraha', Ajay and Kareena appear to be making a habit of doing "bad" movies together.

There's also ace moviemaker Amole Gupte who unforgivingly reduces himself to a caricature to play the conniving 'Baba'. There are a few glimpses of his real talent but Rohit Shetty buries him in a character that appears more comical than menacing. There's also Zakir Hussain reprising his trademark evil campaign as the notorious Prakash Rao. His shots are predictable.

Anupam Kher and Mahesh Manjrekar team up to embark on a political crusade to eliminate the old, dynasty power and handover the political reins to the young generation. For a Rohit Shetty movie, these are rather ambitious angles and therefore appear superficial. For a filmmaker who continues to frame the Indian media in stereotypes (with ethnic ladies wearing bindis and salwar-kameeses), his plans to give them power and recognition towards the end appear amusing.

Apart from being part-action, part-romantic and part-political, 'Singham Returns' is also part-confused. At one point, the godman is treated with suspicion over blind faith but another Bajirao preaches about faith of a different kind. At one time, Bebo's Avni is talks about women's empowerment but at another she is offended when her lover hints at her going out to a club for a drink.

Clearly, Rohit Shetty is attempting to go the extra mile, even though he isn't putting any thought to it.

Skip 'Singham Returns' if you don't want to lose your mind or if you don't have the courage to stomach meaningless Bollywood masala films.

Follow Emirates 24|7 on Google News.