Bollywood review: Ayushman Khuranna's 'Hawaizaada' fails to take-off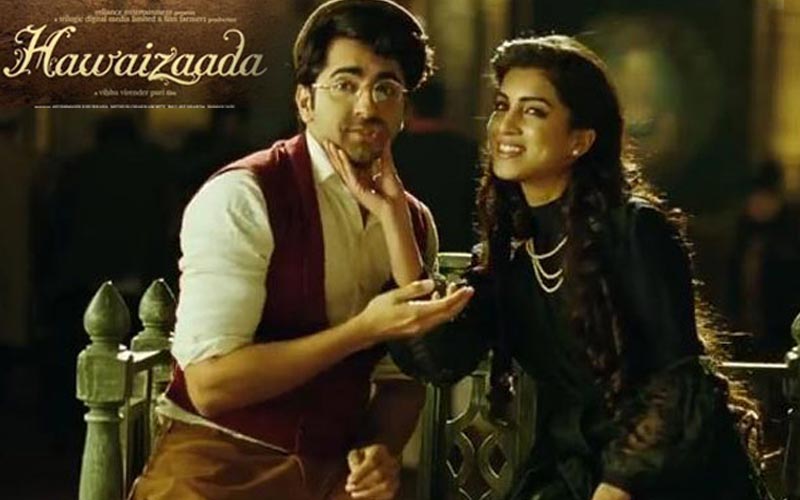 Unlike most Bollywood heroes, our man in 'Hawaizaada' wants to be the first Indian to fly an airplane, but like many of his peers, he's unable to shake away his constant need to serenade. So, instead of spending every wakeful hour focusing on how to set a design to flight, he's busy romancing a dance girl, and fighting social stigmas.
"Marry me," he repeats so often, that it eventually scares the lady away. And, puts us to sleep!
The woman returns four years later, to find him still hopelessly in love, and conveniently distracts him from his fight path and prompts him to sacrifice his dreams.
Had 'Hawaizaada' been less about love, and more about dreams, it would've soared to great heights.
Alas, this is Bollywood, and in here, love supersedes all else. Whether it's the freedom struggle or daring inventions, Bollywood heroes never run out of time or energy to sing and dance, and persist for a kiss.
The first half of the 153-minutes of screen time is entirely focused on Shivy wanting his "first kiss". It turns into a soppy 'never been kissed' routine, where even an Englishman's tooth finds its way into the madness.
Director Vibhu Virender Puri pens the screenplay and dialogues laboriously, and invests immensely in extravagant frames, but is unable to elevate it to a higher ground.
Shan Mohammed is lazy on the edit, leaving us with innumerable glossy shots of our pretty hero and heroine, and some even of splashing water in slow motion. It's jarring and disturbs the texture of the narrative.
Although cinematographer Savita Singh's blue-tinted canvas and the sets by Subrata Chakraborty and Amit Ray appear inspired by Hollywood's 'Sherlock Holmes' or 'Moulin Rouge', it's remarkable nevertheless.
"Will I be able to fly the airplane," Vishy frequently quizzes in the second-half, but never quite invests his time into finding the answer. What he does instead, is sing.
Ayushmann Khurrana, though earnest, is unnecessarily exaggerated. He alternates between crinkling his nose and flashing his droopy-eyes. There's even a song where he steps into Ranbir Kapoor's 'Barfi' mode and sways like Chaplin.
His leading lady Pallavi Sharda, who earlier appeared in 'Besharam', displays another lethargic performance. She's pretty, no doubt, but lacks acting talent. There's even the veteran Mithun Chakraborty hidden under a curly wig and a laughter so fake that he turns Shastri into a caricature.
But, it's the young Naman Jain who steals our heart with the most genuine performance. Clearly, his seniors have a lot to learn from him.
Despite landing an incredible story about how two Indians crack the first flight but were forgotten by history, Puri dilutes their struggles and efforts by adding numerous inconsequential events and characters.
It ends up in a loop that's headache-inducing, and forcing us not to care beyond a point. And that's unfortunate, considering 'Hawaizaada' could've translated into something incredibly deep and promising.
Follow Emirates 24|7 on Google News.