Bollywood review: Did Vidya Balan and Farhan Akhtar nail it in 'Shaadi Ke Side/Effects'?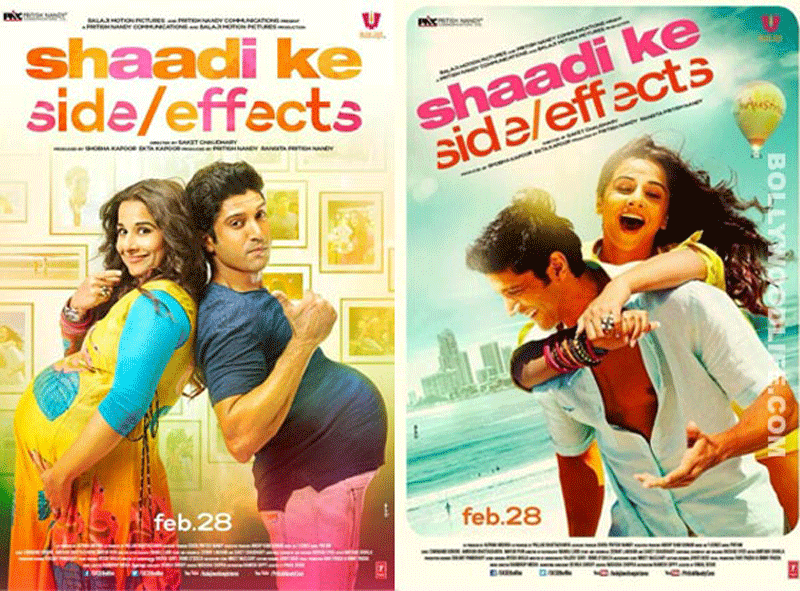 Chances are you would be in a constant state of déjà vu if you are married, or have a child, or are planning a second, or are a man!

Yes, 'Shaadi Ke Side/Effects' is purely a one-sided affair.

The struggles. The shortcomings. The adjustments. The chaos. The constant bickering.

Almost every tussle is panned out from a male perspective. Leaving very little space or scope to delve into the woman's psyche.

A few insights are thrown in at the fag end through quick lines, at a time when tears and emotions are played out in full measure.

Director Saket Chowdhary takes the story forward from the 2006 rom-com 'Pyaar ke Side Effects', exploring the supposed aftermath of when two lives get united in matrimony.

Only, his married couple – Trisha and Sid – don't show any real jitters and have successfully nailed the 'happily ever after' bit.

They sneak out of their mundane lives occasionally to live out a fantasy, which they believe is key to spicing things up in their marriage.

And that's not all. Sid even spills the beans to a puzzled hotel manager who mistakes them for a naughty twosome heady in love.

"When I make a mistake, I say sorry. And, when my wife makes a mistake, I say sorry," he broadcasts proudly, hinting at their secret of marital bliss.

The hiccups in this otherwise fairy tale, however, creep in when Trisha and Sid turn parents unexpectedly.

The diaper changes, the late-nights and the feedings play spoilsport in their romance.

Cracks appear almost instantly when Sid's freedom is curtailed and his parties and male buddies are locked away.

Trisha, on the other hand, embraces motherhood wholeheartedly and is baffled at Sid's immaturity and lack of earnestness.

As an unprepared Sid fumbles and falters in attempting to become the "best papa in the world" and adopts an unconventional life to nail the "best marriage strategy", we are left wondering if this should have been titled "the side effects of being a daddy" instead.

Despite the obvious disregard of the female point of view, we must confess that Saket's story has some incredible situations that had us cracking, even when some of them were already unveiled in the trailers.

Sid's quirky journey as he attempts to understand and empathise with his pregnant wife is a laugh riot. Especially, when he leaves a pizza delivery boy absolutely stunned. It had to be Farhan Akhtar to crack it.
He brings genuineness and amiability to an otherwise self-centered and often confused Sid who earns for his timeout. You empathise with him as he struggles to tune mindless TV ad jingles to ensure his family is taken care of and hopes that one day financial independence would mean a life of a true musician.

Vidya Balan matches up, despite being given a nagging part. Although she manages to salvage this oversight towards the end, her methods might appear unjustified and shocking to some.

That aside, she's earnest and it's empowering to see an actress flesh out real women without succumbing to the pencil-thin image that Bollywood often frames.

Writer Arshad Sayed pens some genuinely fun lines, with Sid walking away with the better ones. "I feel like Sehwag... Dropped after a few bad performances, for someone much younger and enthusiastic," he mocks when a younger neighbour turns Trisha's new buddy.

The supporting cast of Ram Kapoor, Vir Das, Rati Agnihotri, Illa Arun and Purab Kohli are fairly non-interfering, with some getting a little more screen time and importance than the rest.

Despite the brilliant performances and some incredibly funny situations, Saket's narrative slumps innumerable times over the two-hour-and-twenty-five-minutes screen time.

But if you have time to spare, then 'Shaadi Ke Side Effects' is a fairly enjoyable ride. Only, don't go looking for any marriage counseling here because you are not going to find it.

Follow Emirates 24|7 on Google News.