Bollywood review: Irrfan Khan lends grit, dignity and wit to 'Talvar'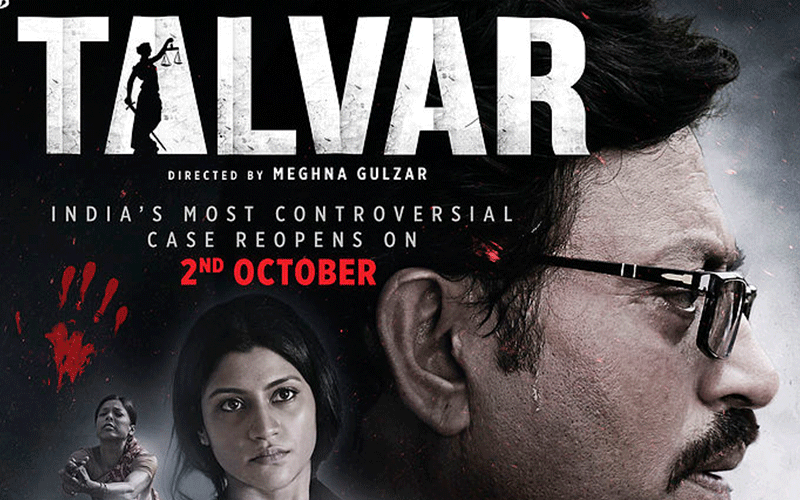 Minutes after the curtains roll up, we witness a cheeky agent poke fun at his own investigative agency, asking his superior whether the decision to host the organisation's celebratory day on April 1st (April fools' day) is indicative of its actual standing.

That line, mouthed so pragmatically by the gifted Irrfan Khan, in a sense captures what 'Talvar' sets out to achieve.

How a compromised crime site, an inefficient police team, squabbling investigating teams leaves a family destroyed.

Based on the true events that unfolded in 2008, where parents of a teenaged girl are found "guilty" of her murder and that of her "lover's", director Meghna Gulzar revisits the crime scene with clinical precision.

For a case that relied mostly on fiction, and less on facts, Meghna's take is fortunately balanced in tone and texture, never overdramatizing the events or indulging in character assassinations. And, that's a striking contrast to the way the media had handled the murder.

In fact, Meghna even plays out the media circus, and frames Hindi news channel reporters screaming the parent's cruel role by using actors to enact a mock murder in the background. There's even the notorious telly talkshow host who lets a celebrity writer blatantly announce the parents guilt because they didn't cry for the media.

There are also prejudices and class disparity that creeps in, with Meghna patiently exploring both sides of the coin, without ever colouring the intention of the characters. There are no malicious officers or monster parents, only two conflicting theories.

Filmmaker and writer Vishal Bharadwaj is undoubtedly a master storyteller. Despite relying on material that has been presented in the media before, he manages to create an engaging narrative. It's when the officers sit, across the table, and fight out their points, that we are baffled at their inefficiency and complete disregard for scientific evidence to solve a crime.

He even uses humour, cleverly and subtly, to expose the brutal proceedings.

Vishal employs the genius Irrfan to take it forward, and he does it with panache. Irrfan's topnotch as the officer, who cheekily plays mobile games as he goes about cracking the murder mystery. Much of the movie relies on him, and he doesn't falter.

Konkona Sen-Sharma and Neeraj Kabi play the parents impressively, with restrained perfection. Seasoned actor Tabu also steps in for a few minutes, as the officer's estranged wife, allowing us to understand his character a little more.

Although Vishal has acknowledged that it's based on Aarushi-Hemraj murders, he has kept the names of the family, officers and investigating agency different but similar sounding, possibly to steer away from legal tussles.

As the movie draws to an end, and you find your own truth, you will be left haunted by the images of a giddy teenager flashing on your screen.
Follow Emirates 24|7 on Google News.