Bollywood review: Katrina, Aditya's 'Fitoor' is much ado about nothing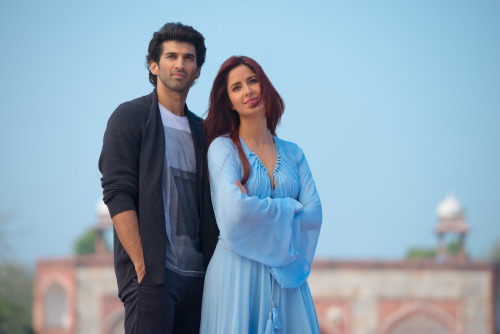 'Fitoor' is a staggeringly beautiful canvas, but nothing else.
There are six-pack abs, toned bodies, fiery red hair and gorgeous sets, each hoping to add colour and passion to a story that was once Charles Dicken's but now tweaked rather imperfectly by director Abhishek Kapoor and writer Supratik Sen.
If anyone, it's cinematographer Anay Goswamy who elevates the movie with his magnificent frames. His work is nothing short of a painting, much unlike the one, our hero Noor struggles to create, despite flexing his muscle through paint-soaked t-shirts.
It's possibly the most pretentious love story we've seen so far.
Everything appears staged, and every expressions wooden and cold, much like Dickens' lady Estella.
Everyone talks in poetic jargons, barring our leading lady, who speaks in thick American twang despite having lived in London. Clearly, Abhishek thought writing Firdaus a backstory that takes her to London early on would justify Katrina Kaif's accent, what it does, however, is appear lame and mismatched.
Katrina and Aditya Roy Kapur spend frame after frame gleefully flaunting their newly acquired bodies and hairdo, but fail to ignite any real passion to the narrative.
Katrina, if nothing else, gets Estella's frosty temperament spot-on, but she, unfortunately, is unable to delve deeper into her psyche. She flutters her eyelashes and parades her rich wardrobe, and occasionally goes make-up free to possibly add depth to Firdaus, but what Katrina creates is a stunner of a woman who is emotionless, and need we say, expressionless?
Aditya is equally focused on his appearance, leaving Noor looking perplexed and shocked at most times. Surely, there's a lot more he could've done apart from working out a sweat in the gym.
Probably a lesson in acting from the younger Noor and Firdaus could've gone a long way in lending magic to this insipid love story.
'Fitoor' has moments of truth, pain and madness, emoted commendably by the celebrated Tabu, but for most parts its unsure about what to do. There's a scene when an uptight Firdaus disapproves of Noor's choice of shoes, but attends his art show dressed like she's ready to hit the club. There's also
Aditi Rao Hydari using Tabu's voice to narrate her love story.
Even a line hinting at the political situation in Kashmir is strangely altered in the movie. In the trailer, it's Kashmir, but in the movie, it's Firdaus!
'Great Expectations' is an ambitious story to adapt to Bollywood, no doubt, but one that Abhishek has wasted.
Follow Emirates 24|7 on Google News.