Bollywood review: Madhavan's 'Saala Khadoos' has its moments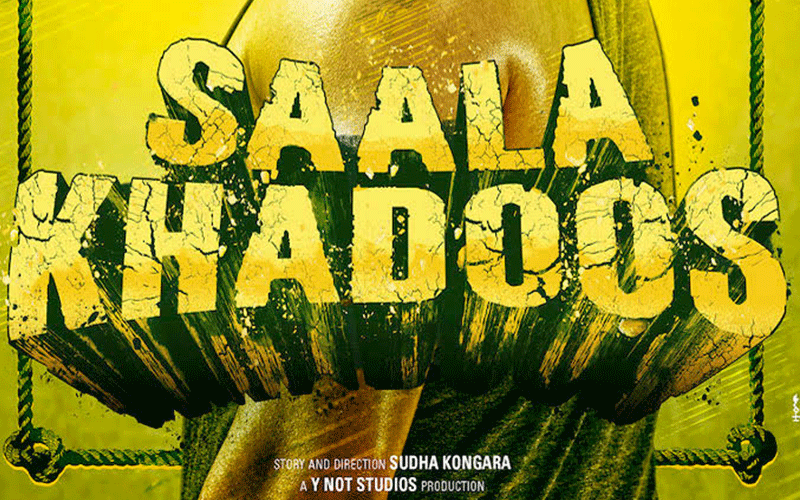 It's not until the girls in 'Chak De India' burst on the scene and won the world over with their dribbles and box-office magic, did Bollywood take sports seriously. There was the rare 'Iqbal' and Oscar hopeful 'Lagaan' before that, but nothing that won us over like the girls' hockey team.
Soon, Bollywood caught on the trend, and gave us 'Bhaag Milkha Bhaag' and 'Mary Kom', movies that unfortunately bet their money on the muscles, and not on the sport.
So, when the action kicked off in 'Saala Khadoos', we hoped it would redeem the genre of its lost glory, and emerge a game changer.

Unfortunately, it doesn't.
It starts off with promise, and showcases some great talent in the ring, and off it, but the narrative never allows it to soar.
It gleefully plays defense, blatantly disregarding its grumpy coach's go-getter commands. Writer-director Sudha Kongara Prasad announces each move even before the actor has a go at it, deriding the drama of any thrills. Every character, location and action is labelled, almost making us feel we're back in kindergarten.

'Saala Khadoos' is about an unlikely boxing queen, who's rustic and uncouth outside the ring, but flexes power and skill worthy of a champion when the gloves are on. It's a discovery that drives disgraced coach Adi into finding purpose in his life.

Much like the aviator-donning coach in 'Chak De India', here too the man wants his student to win him the sporting glory that had once eluded him. The journey to the top is laden with twists and tricks. There are scheming officials, scams, sexual harassments, rivalry and the (staple) romance. Issues that we've been exposed to before. Some genuine, some forced.
"Take the politics out of boxing," roars Adi, stressing a crisis that's rampant in the sporting circle. Yet, Sudha doesn't dig into the muck. We hope that would mean more drama in the boxing ring, but there's none. It's all reduced to a song. The camera work is far superior to what we've witnessed in 'Mary Kom', no doubt, but it's not backed by great material.
Even partly positioning the story in Chennai, with no dialogues in Tamil barring some stray words, English misspellings and massive posters of Tamil actors Dhanush and Rajnikanth, damages the soul of the movie. Surely using subtitles would've added flavour and punch to Madhi's world. Her mother's non-Tamil lineage isn't reason enough to tell the story in one tongue.
Despite the flaws, it's the performances that redeem the movie. R Madhavan's imposing as the bulky coach, who, despite his eccentricities and downfalls, never lets his passion die. He's matched brilliantly by Ritika Singh, who captures Madhi's fractured world with striking strokes. However, Adi and Madhi never emerge heroes, and that's a failing on the writing.
While 'Saala Khadoos' has some powerful moments, it's not a knockout!
Follow Emirates 24|7 on Google News.