Bollywood review: 'Race2' just doesn't make the cut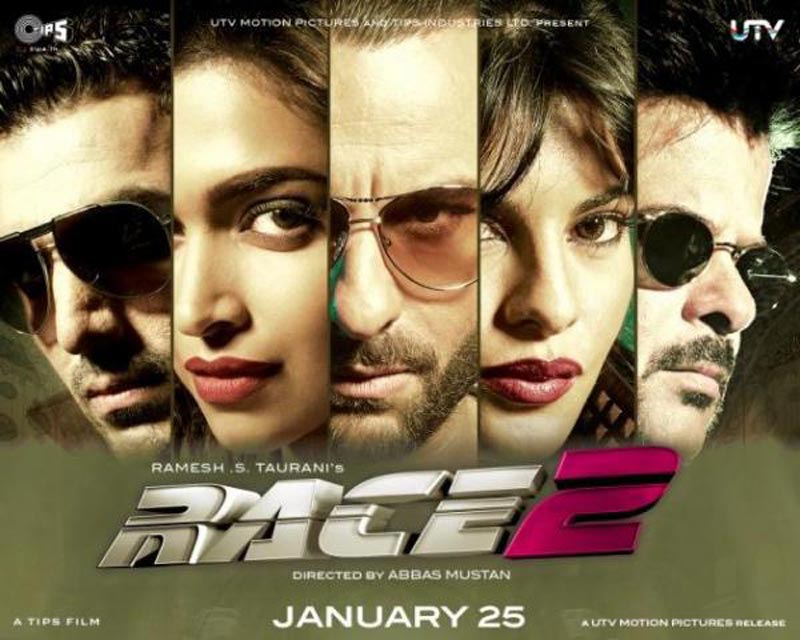 It's a race, we are told, on numerous occasions, by the two leading heroes and their two gorgeous sidekicks, almost trying to justify why they've taken two-hours-and-thirty-minutes of our lives. Yet, there's never a real sense of what they are racing for. Time, money, babes, or cars?

There's no urgency in their actions, or dance moves, just pure indulgence in their own chiselled bodies, designer wardrobes, swanky cars and a journey that takes them to several European cities.

On many levels, a movie that's all fluff and no stuff can be quite exhausting. And, 'Race2' is just that.

It's just a pompous wannabe-thriller that is devoid of any logic.

While its predecessor, the original 'Race', had shown some promise and glimpse of a good plot, 'Race2' steers away from any such attempts, and instead focuses on good looks and charm.

Director duo Abbas-Mastan's 'Race2' sees Ranveer Singh, the winner of the first 'Race', return to strip the cunning Armaan Malik of his riches. His reasons are revealed over time when they finally lock horns atop a crashing flight.

The two – one a street-fighter who flexed his muscles and became rich, and the other an old suave fighter, who continues to double-cross and win – fill all their frames by grimacing and plotting against the other.

But that is not before we are an-hour-and-a-half into the movie. Till then, they are busy seducing their super-hot chicks, showing off their posh cars and designer suits, walking in slow-motion to blaring background score and swaying to many dance tracks.

It almost makes us wonder if it's a dance title that the two are vying for. That would've been more meaningful than the story churned out by writer Shiraz Ahmed.

He uses every Hollywood trick in the trade, yet shamelessly claims, in a dialogue no less, that his final feat has not been attempted in international movies.

He brings in the casino with its rich, sly owners, card games with its cunning winners, bloodied fight clubs, even a history lesson and a stolen treasure.

Even the lines by Kiran Kotrial aren't clever, and border on inane puns and PJs.

The narrative is botched and inconsistent. A case in point is the placing of a group dance, with all the actors gyrating to a remixed version of the original 'Race' soundtrack, bang in the middle of the thriller.

Saif Ali Khan as the stylish Ranveer is rather tiresome. He lacks charm, wit and acting versatility, and he's got the Botox jabs and an ageing body to blame. Although he attempts to give Ranveer a gripping edge, he's left with more dance moves than action sequences to show off.

He's often distracted by the women who turn up in itsy-bitsy clothes and croon to some funky songs.

Most unforgivable is his decision to expose his 'Kareena' tattoo. Surely, actors need to be taught to keep their real life separate from their reel image.

John Abraham, on the other hand, is far from menacing as Armaan Malik. There's a hint of his angst in the bloody fight sequence, but apart from that, his ruthlessness is often concealed. He does try though, but his indifference in the character makes it tough for us to take him seriously.

The leggy Deepika Padukone and super-toned Jacqueline Fernandes do what they are supposed to – look smoking hot. Although Deepika's Alina might've appeared more powerful on paper, it's Jacky's Omisha that's more layered in real.

Anil Kapoor is cracking as the fruit-indulging Robert D'Costa and shares some silly moments with his dim-witted assistant Cherry. It's only their link-up, in the end, that's quite disturbing, but it's hard to take them seriously.

On the whole, this is just a lazy sequel of a famed potboiler that can be watched at home… on a (borrowed) DVD.

Follow Emirates 24|7 on Google News.