Bollywood review: Ranbir Kapoor returns guns blazing in 'Bombay Velvet'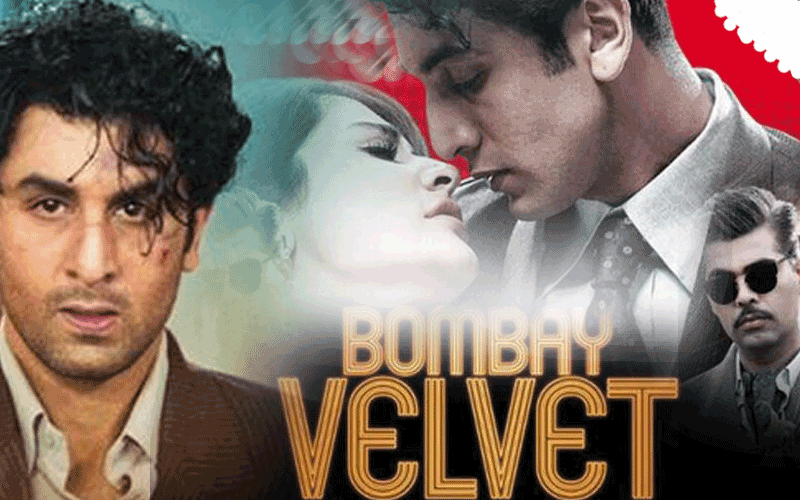 At a time when filmmakers are exploring untouched themes, adopting stories that downplay romance, and exploiting unique storytelling styles, director Anurag Kashyap steps back in time to unveil a vintage Bollywood romance that's clichéd but styled magnificently.
He serves up his extravagant love story tinted in blood, and peppered with bullets. Set at a time when Bombay was exploding with potential and power, and a desire to turn into a Manhattan.
It's effectively formulaic, with a poor street-kid turning into an outlaw, only because it's his only chance at being a "big shot". He's handed a loyal best-friend, a cunning rich mentor and a gorgeous girl to journey with him, as he climbs up the ranks.
While Kashyap extracts some killer performances from his passionate lovers, it's the magnificent canvas that steals the show.
Shot gloriously by Rajeev Ravi, this is possibly Kashyap's most visually spectacular movie ever. From movie posters, to classic cars, to trams, to telephones, every frame exposes Bombay of the 1940s and 60s.
Unfortunately, 'Bombay Velvet' crumbles under its own glory. While the retro chic impresses greatly, it distracts us and never allows us to connect with its cigarette-puffing, gun-loving dishonorable men. At over two-and-a-half-hours of screen time, there are moments of ups and downs, that kills the fun. Even Prerna Saigal and celebrated American editor Thelma Schoonmaker are unable to salvage the situation.
In fact, 'Bombay Velvet' never quite attains the supremacy that Kashyap's epic gang war 'Gangs of Wassaypur' attained. Agreed it's inappropriate to compare the two genres, but both are as much about the politics of power, as they are about love.
The curtains rise as the inglorious Nathuram Godse headlined the newspapers, and when restrictions on spirits were the norm. Swayed by the dreamy Hollywood noirs and disgusted by a life crammed in poverty and vulgarity, an unfortunate Johny Balraj sets out to alter his destiny.
He chances upon the suave Khambhatta, who promises to change his life in exchange for a few quick executions. Soon, Johny is offered a flashy dance club, and his girl Rosie is hired as the pin-up girl/jazz singer. Life's on an upswing, until Johny demands for an equal share.
All hell breaks loose, and Johny rages to claim what he believes is his right.
Ranbir Kapoor flourishes as the manically ambitious Johny. You sense his menacing madness as his "hobby" entails him to willing surrender to the hard blows in the boxing ring, or when he unflinchingly punctures bodies so they don't stay afloat after being dumped in the waters.
It's the moments when his lips are sealed, and his eyes do the talking, that are the most defining, and the mark of a great artist.
Anushka Sharma backs him up impressively. Even her pout isn't off-putting, and she plays Rosie with aplomb. It's their superlative performance that 'Bombay Velvet' rides on.
Unfortunately the same can't be said about director Karan Johar, who makes his acting debut as the conniving Khambatta. Despite being handed a powerful character, Karan is unable to inject him with fear or lunacy. He tries, quite honestly, but it never tallies up and turns him into the weakest link in 'Bombay Velvet'. When Khambatta subtly voices his preference for male companions or when he renames Balraj as 'Johny', it reduces Karan (and not Khambatta) to a cliché.
It's unforgiving why Kashyap, who's known for his impeccable eye for spotting acting talent, would compromise for mediocre talent, especially when he had signed the talented Kay Kay Menon. Had he swapped their parts, 'Bombay Velvet' would have soared. Alas, that was not meant to be.
Of the supporting cast, Kay Kay is pitch-perfect as the helpless but earnest cop. Satyadeep Mishra is equally expressive as the Johny's faithful Chinman. Manish Choudhary steps in at second, as the scheming Jimmy Mistry. Vivaan Shah isn't allowed to flex his acting chops, and flits in and out at random.
Despite the build-up and grandeur, Kashyap's 'Bombay Velvet' falls short of being his masterpiece.
Follow Emirates 24|7 on Google News.