Bollywood review: 'Saheb Biwi Aur Gangster Returns' is vibrantly menacing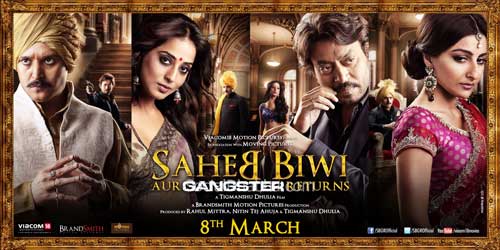 Blatant. Bloodied. Brash. Unapologetic.
Seven years since he created the menacingly malicious world of deceit, betrayal and destruction in 'Saheb, Biwi Aur Gangster', Tigmanshu Dhulia returns with a befitting end to its inglorious beginning.
Despite a sluggish start, few unnecessary dances and some inconclusive twists, Tigmanshu's royal heroes succeed in creating a thundering impact.
The slip-ups probably are easier to forgive because of some deal with censor cuts in the UAE, and the others strangely echo the wavering conflicts of the protagonists themselves.
Of the two central characters, one's a blue-blooded ruffian, who's aspiring to turn into a politician by muscling his way to the top, while the other is a crippled king, whose aggressive personality is undamaged by his wheel-chaired life.
The two eventually end up fighting over a royal beauty.
But, it's barely about love. What is crucial in Tigmashu's drama is the politics of power.
The fighting ring broadens to accommodate many more as they jump in to nurture their desires and ambitions.
Unlike most Bollywood sequels that only borrow the title from the original and nothing else, Tigmanshu takes the traditional route, and spins off a tale that's pitched on the two main characters of the first.
Haunted by their bloodied past, Ajay Pratap Singh and his indecisive wife Madhavi are locked in a world that's wounded and unchanged until royal neglect Inderjeet and his pretty ladylove Ranjana make an entry.
Despite a first-wife, who's constantly inebriated, Ajay Pratap is confident of winning home a second wife. It's a regal privilege, he believes, even when his royal position is threatened by the local politicians and his own aristocratic peers.
Through it all, Tigmanshu brilliantly textures the dynamics of a dead dynasty and the desire to shift loyalties for power with understated honesty and rustic charm.
Even while he focuses on the politics of the 'saheb' (king), 'biwi' (wife) and gangster, he doesn't overlook the other characters or their weaknesses.
Raj Babbar as the majestic ruler, who is willing to use his own daughter to win over political power, is incredibly arresting. TV host Parvesh Rana as Inderjeet's brother, who uses his position in the police to influence his brother's success, is equally noteworthy. Even Deepraj Rana who steps in as Ajay Pratap's immortal soldier is impressionable.
Apart from the gritty trigger-happy escapades of the power-hungry folk, Tigmanshu also allows us moments of laughter through a silly political leader who announces he is like "a tomato… an honest tomato" to Inderjeet.
'Saheb Biwi Aur Gangster Returns' is packed with exceptional performances. It's hard to pick a favourite, with each actor giving their characters a remarkable twist.
As the cocky thug, who dreams of regaining his political dream at any unethical cost, Irrfan Khan is at his finest. Whether he's bargaining for time from marrying his lover due to his prospects at the local elections or chasing a newspaper photographer for not printing his face despite stomaching a bribe is most endearing.
He tackles every emotion with such élan. Even in his roguishness, there's a charm.
Jimmy Shergill as the domineering king, who unabashedly gloats about his evilness and unapologetically chases another woman for want of a better married life, is superlative. It's very rare that an actor of his calibre gets his due on screen, and Ajay Pratap is definitely an exception to the rule.
Hell hath no fury like a woman scorned, as Mahi Gill breathes fire into unbalanced, drunk Madhavi. From swaying into a village protest in drunken stupor to trying to regain her wifely rights, to pleading for money, she makes Madhavi's indecent proposals work. Soha Ali Khan is equally impressive as the gorgeous Ranjana.
Tigmanshu ties it all up in an unexpected end, one that the purists might baulk at, but one that deserves applause nevertheless.
This is a daring sequel, worthy of a watch.
Follow Emirates 24|7 on Google News.