Bollywood Review: 'Te3n' crumbles despite Amitabh Bachchan, Nawazuddin Siddiqui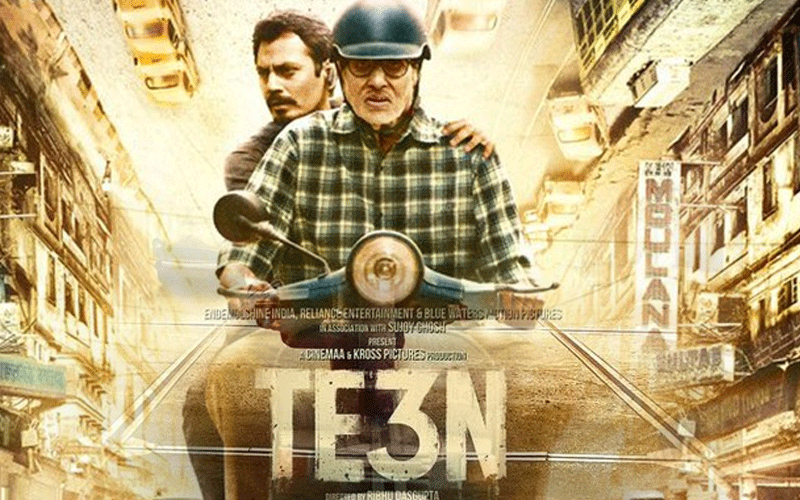 Bollywood is slowly looking beyond romances and adopting stories that thrill. This time, we are told, it's from Korea.
While selecting intriguing stories is far easier, as director Ribhu Dasgupta would now learn, it takes a lot more to convert the material into a gritty thriller. Blindly banking on lazy writing or hiring celebrated names in the industry just doesn't do the trick.
A ploy that may have worked, only the three lead characters in 'Te3n' carry some heavy baggage. Vidya Balan and Nawazuddin Siddiqui look like they've walked back on the set of 'Kahaani', while Amitabh Bachchan slips into playing a broken man, much like what he did earlier this year in Wazir'.
So, part of 'Te3n's debacle lies in its unfortunate casting call.
The story isn't a faithful copy, the internet tells us, with the original pitched on a grieving (young) mom, and not an aged grandad. It's a tactic that Ribhu probably adopts to eliminate previous references or clues, but one that doesn't pull through.
Ribhu weaves theories, mostly to confuse and manipulate, by conveniently shifting into strange timelines. It's an old trick, that gives directors an edge over their audience, but one that demands finesse and skill to execute. In here, we crack the mystery, far before he reveals it to us, and that's disappointing.
The actors, however, march on, unharmed, each flashing their acting prowess, but the writing fails them entirely.
Amitabh is genuine, and, literally, wears the burden of the past, on his slouching shoulders. It's endearing early on, but those movements soon continue to appear exaggerated. A moment when he breaks down in front of his grandchild's grave is where he shines. Or, when he rides his rickety scooter, as the detective-turned-priest sits stiff as pillion.
Nawaz is faultless, lending such charm and grace to Father Martin. There's no other actor who could've done justice to this part.
Vidya, however, doesn't have much to do, and appears (strangely) reminiscing her 'Kahaani' days. There's gravity in her performance, no doubt, but her character isn't allowed to soar. And, that's a shame.
While the sluggish narrative is unbecoming of a thriller, it lends a strange, but wicked texture to 'Te3n'.
Only, the movie never cashes in on that. 'Te3n' could've been a lot more, but never does.
Follow Emirates 24|7 on Google News.