Varun Dhawan fails to do a Salman Khan in 'Main Tera Hero'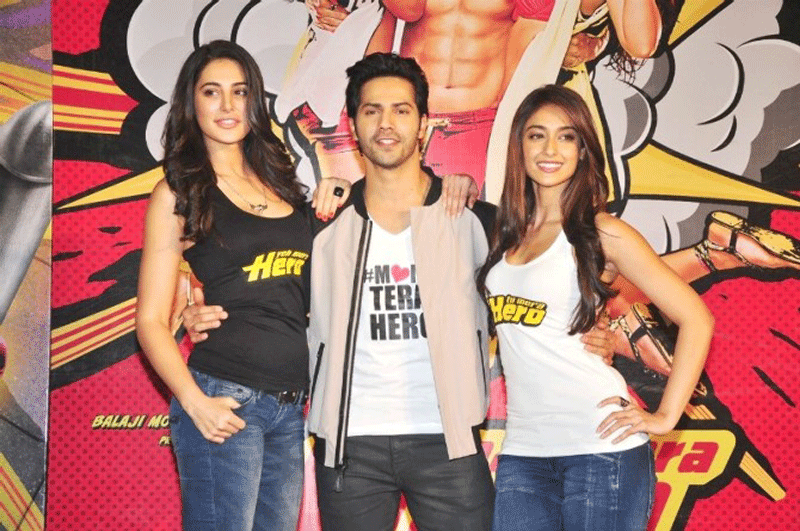 Parents are often guilty of overlooking their children's flaws and believing that their kids are nothing less than geniuses.

Well, 'Main Tera Hero' is just an example of how a doting father indulges that weakness.

David Dhawan revives his brand of inane comedy and pushes his son Varun into the spotlight. There's just a handful of frames that don't feature Varun and those can be attributed as David's act of kindness to his audience.

What the director fails to remember is that much of his comedies banked entirely on the actor's fan following.

Whether it was Govinda's quirky style or Salman Khan's charming moves, they each added a unique flavour to the Dhawan comedy.

Those associations were much celebrated at the box office, despite the films not investing in intelligent humour and blatantly banking on buffoonery and unimaginative gags because of the big stars.

David's not-so-little boy, however, lacks that kind of talent or charisma to make these senseless rom-coms work. He, in fact, turns this comedy into a tragedy, unintentionally of course, despite earnestly following dad's rulebook on heroism.

Varun flashes his (newly acquired) six-abs, flexes his muscles, strips down to his shorts, flaunts his quirky pelvic moves (and even apes Michael Jackson a few times), and romances pretty, pencil-thin girls, but never quite emerges a likeable hero.

It's not his lack of experience (he's just a movie old) that we'd blame for the casting blunder, but his lack of uninhibited comic flair.

Even the two gorgeous women that his dad presents for him, are high on glam but low on talent. Not that David Dhawan heroines are required to do much other than flash their slender bodies and shake them to funky beats, but even those simple feats appear exhausting for Nargis Fakhri and Illeana D'Cruz.

The supporting cast is reduced to mere caricatures, with seasoned actors like Saurabh Shukla muted out midway, and Anupam Kher left to echo his own voice.

Even the hunk Arunoday Singh finds a schizophrenic baddie to portray, whose 'knock-knock' games turn excruciatingly annoying after a point. Probably his lack of enthusiasm in clowning around is evident in how he turns this act into his (tiny) Bollywood career's all-time low.

While it's tough to find the weakest link, Nargis' pout is a prominent contender.

The jokes on Bollywood star Katrina Kaif's broken Hindi, or the attempt at tweaking one of Ranbir Kapoor's popular dance track, or even injecting Salman's name at every given opportunity falls flat.

If anything, 'Main Tera Hero' requires a certain amount of willpower to watch the entire film even when you know that freedom and sanity is just a door away.

Don't step in. Not if you have a choice.

Follow Emirates 24|7 on Google News.