Bollywood's King Khan: 45 and worth $540m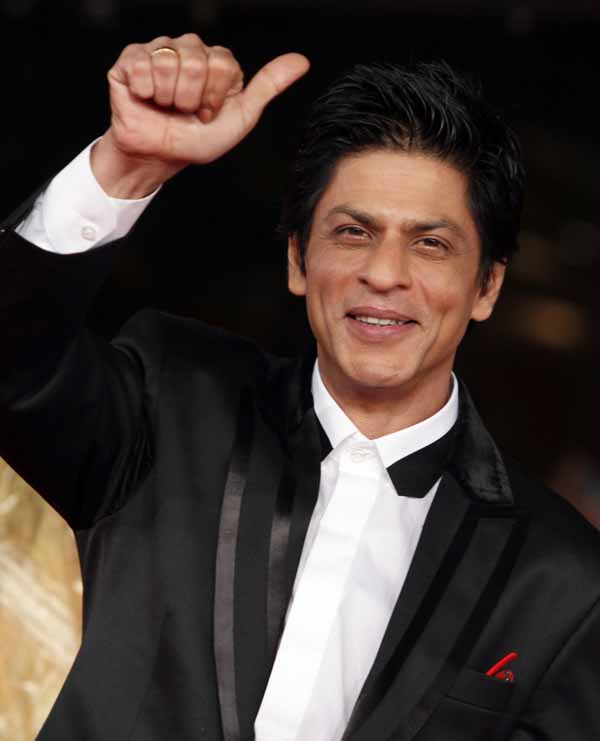 Name: Shah Rukh Khan
Age: 45 today
Who's he, then?
You've got to have been living under a rock for the last 20 years, if you're asking that! He's only Bollywood's most famous actor.
Isn't that Amitabh Bachchan?
Not any more – for pretty much since the beginning of his career, Khan has skyrocketed to fame. Having started out on television with the series "Fauji", he began chasing a Bollywood dream in 1991, debuting in the film "Deewana", a 1992 release that won him a Filmfare Award for Best Debut. Three hits the following year, "Darr", "Baazigar" and "Kabhi Haa Kabhi Naa," some of which was pretty adventurous fare by Bollywood standards, quickly won him awards and marked him out as destined for future box-office success.
In 1995, Khan hit the jackpot with Aditya Chopra's directorial debut, "Dilwale Dulhania Le Jayenge", which was a major critical and commercial success. It has enjoyed an unbroken 750-week run at one Mumbai cinema and has grossed an estimated Rs10 billion (Dh825 million) in India alone.
IN PICTURES: The life and times of Shah Rukh Khan
And how's he done after that?
Khan has been part of numerous commercially successful films and has earned critical acclaim for many of his performances. He's won 13 Filmfare Awards for his work in Indian films, seven of which are in the Best Actor category, thus establishing himself as one of the leading actors of Hindi Cinema. In 2005, the Government of India honoured him with the Padma Shri for his contributions to Indian cinema.
I'm sure it can't have all been easy!
No, it hasn't. 1996 and 1998 were terrible years for him, with all the films he acted in that released in those years faring dismally at the box-office. Among them were "Army", "Duplicate" and "English Babu Desi Mem".
But? I sense a but…
But he delivered a few winners, too: box-office hits came with "Dil To Pagal Hai" (1997) and Karan Johar's directorial debut, "Kuch Kuch Hota Hai" (1998), while critical praise followed with Mani Ratnam's "Dil Se…" (1998). By 2000, with Chopra's "Mohabbatein", he had firmly cemented his place at the head of the Bollywood pecking order, earning himself the title King Khan, and soon turned his hand to production. He has since been associated with some of the industry's biggest hits, including "Devdas", 2002, and "Kabhi Alvida Na Kehna" (2006), "Chak De India" (2007) and "Rab Ne Bana Di Jodi" (2008).
Nice work, if you can get it?
Yes. He has a net worth of Rs25bn ($540 million or Dh2bn), as estimated by The Times of India in 2009. Newsweek has called him the world's biggest movie star, citing his fan following on the Indian subcontinent and in large parts of the Muslim world.
That can't all be money from acting, surely?
No, it isn't. Khan owns two production companies, Dreamz Unlimited and Red Chillies Entertainment (which produced the 2007 runaway hit, "Om Shanti Om"), a stake in several smaller ones and co-owns an Indian Premier League cricket team, Kolkata Knight Riders, ranked the second most valuable franchise brand at $46m. Plus, there's money from lucrative endorsement deals, including commercials for Tag Heuer, Pepsi, Videocon and Hyundai. It is estimated that he earns Rs80m a year from endorsements alone.
What's the UAE connection?
Khan reportedly owns property worth Rs4bn in Dubai alone – including a villa on the Palm Jumeirah and a property on the as-yet-unfinished Palm Deira. That's in addition to endorsing the Dh8bn Shah Rukh Khan Boulevard a beachfront community in the Northern emirate of Ras Al Khaimah, work on which, he said earlier this year, is currently on hold.
But, as he himself says, it's all part of the brand. "I'm just an employee of the Shah Rukh Khan myth," he told the Hindustan Times a few years ago.
And what about his love life? Wasn't he involved with that cheeky director chap, Karan Johar? And also to a slew of actresses?
There's been endless speculation about his sexuality, yes – in much the same way almost every top star's personal life has been pored over under electron microscopes. Khan has been happily married to the sometime television host Gauri Chhibber, with whom he has two children, Aryan, 13, and Suhana, 10.
So what's he up to now?
This year saw the release of "My Name is Khan", a controversial film about post-9/11 prejudice in the United States. Bollywood's most expensive film ever, it made back five times its Rs80m budget, grossing a tidy Rs1.8bn. His next movie, the science fiction film "Ra.One", directed by Anubhav Sinha, is due for release in June 2011.
And in the meanhile?
"I have not had so much fun on my birthday before. toys r us with the kids..learnt ripsticking...dugu,sussanne,raveena & gang of don...partied. thanx for making me feel so special everyone around the world. i am half way home now...but promise to keep u all happy for the next half," he posted on his Twitter webpage. Shah Rukh Khan, still acting at 90? At least we'll all be entertained!
IN PICTURES: The life and times of Shah Rukh Khan
Follow Emirates 24|7 on Google News.