Bollywood star shames man watching pirated 'Dilwale' on flight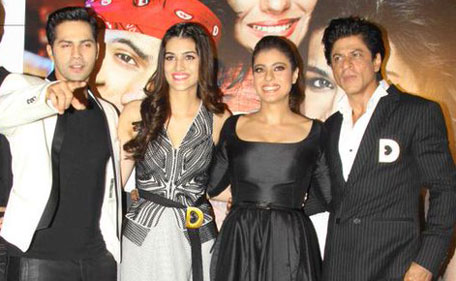 A Bollywood star posted a series of angry tweets after a passenger sitting next to her on a flight brazenly started watching a pirated copy of one of her films.

Actress Kriti Sanon was travelling to Delhi last week when the man seated beside her and her mother started using an iPhone projector to watch Hindi blockbuster "Dilwale".
The $15 million movie, which sees Sanon star alongside Bollywood icon Shah Rukh Khan, had only been released in cinemas 10 days previously.

"Someone watchin pirated version of Dilwale in front of me on phone in the flight! Annoyed!! #SayNoToPiracy," the 25-year-old posted on Twitter.

The tweet, which has been liked almost 3,000 times, was accompanied by a photo showing the passenger watching the movie. It also included an angry emoji face.
Kriti Sanon (AFP)

Shortly afterwards she tweeted again.

"Sad to c the hardwork of so many ppl bein watched in such pathetic quality! Pls enjoy films in cinemas #SayNoToPiracy," Sanon wrote.

It was accompanied by another picture of the passenger, who appeared to be enjoying the movie.

A third tweet followed, in response to a user who said that watching pirated movies was a criminal offence.

"Yup..told him politely that he would enjoy the film more in a theatre. but he was busy showing off his projector!," she wrote, this time including two angry emoji faces.
Follow Emirates 24|7 on Google News.