Bollywood wives on top: Aishwarya, Kareena earn more than hubbies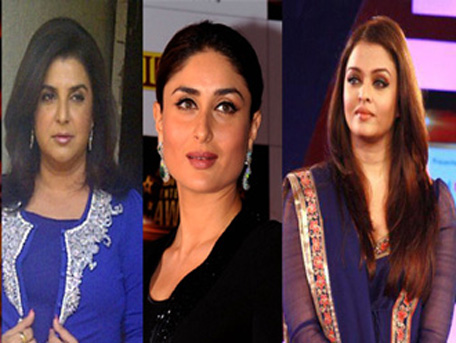 In the Indian film industry where box office and corresponding celeb pay cheques are calculated every Friday, some stars simply draw a bad hand with a string of flop films impacting their monetary millions and star power at the negotiation table.
While most would blame the market mechanics of any cut throat industry, things can get a tad awkward when the competition erupts between some of Bollywood's famous celebrity couples – especially when the wife comes home with a bigger and fatter salary than her not so popular husband.
Can a heroine be a hero?
At least year's India Today Conclave, actress Kareena Kapoor had famously been quoted as saying that she was one of the few female stars of her times who was ready and willing to fight for an equal pay check that tallied up to the figures "the three or four Khans demand in the industry today."
The argument was the voice of reason in a historically male dominated film industry, but appeared a tad hypocritical when the actress went on to become the highest paid female lead in 2012, allegedly being paid a ridiculous salary of Rs80 million for her box office damper, 'Heroine'.
But her response to that was: "I don't think I'm a hero because all the films like '3 Idiots', 'RA.One' and 'Bodyguard' that made Rs1 billion to Rs1.5 billion, their producers and all the three Khans took home the money. What am I left with? 'Chammak Challo'?"
However, even as she fights the good fight in the corridors of film corporate, the story on the home front paints a different picture entirely.
Kapoor, who became Kapoor-Khan last year following the media blitzkrieg over her relationship with fellow actor and Nawab of Pataudi, Saif Ali Khan, is certainly the hero on her home turf.
According to latest industry figures, this particular Khan does not command the same star power as his three namesakes, with his starry salary of last year edging him to a measly Rs45m or nearly half of what his wife earns.
With a dud like 'Agent Vinod' to his name last year, Khan did redeem his box office takings last year with 'Cocktail's' success story, albeit credit was given to co-star Deepika Padukone on this one.
However, according to sources, the big fat Bollywood wedding circus of last year has earned Khan a few brownie points in the celebrity stakes, with his star power no allegedly demanding Rs50m per endorsement, compared to the Rs30m he was earning last year.
And with 'Race 2's' box office gold, despite the film being critically panned, Khan can hope to bridge the gap between his wife and him with possibly a Rs60m salary from what we hear for his upcoming 'Bullet Raja'.
And baby makes three...
In 2011, Bollywood's biggest female star took a sabbatical when her father-in-law announced to the world he was to be a grandfather.
Indeed, Aishwarya Rai Bachchan's voluntary bow from the limelight to embrace motherhood may have come as a blow to many a fan around the globe, but it did manage to put a temporary plug on the sniggers and the off-set tongue wagging on who wore the pants in her marital union with the heir of Bollywood's first family, Abhishek Bachchan.
It is no secret that between these two lovebirds, Rai Bachchan easily edged out her not so famous husband in the box office and endorsement stakes.
According to Forbes magazine, Rai Bachchan's net worth post her wedding march was calculated at $35m; while her last film saw the actress command a salary as high as Rs70m, which was later broken by Kapoor's cash draw for 'Heroine', incidentally the film that Rai Bachchan was infamously dropped from when she announced to the world she was pregnant.
Meanwhile, husband Abhishek, who is currently on a high for sweeping the awards season for his comic turn in 'Bol Bachchan' last year, actually had the presence of mind to return his paycheck to the filmmakers when 2012's 'Players' crashed and burned at the box office.
However, the amount was apparently not more than Rs40m, or what the actor used to earn until 'Bol Bachchan', say industry sources.
While the figure is yet a sound one for most standards, compare this number to that his sit-at-home wife forked over last year income tax alone – a cool Rs30m – without even working in a single film and you do the math.
Rai Bachchan, who is on a comeback trail with her endorsements at least, has supposedly commanded a Rs100m salary for her three year contract with Kalyan Jewellers.
If these numbers are to go by, her husband doesn't stand a chance to even compete.
Behind the scenes
The Bachchan skewed economics sees a repeat in a much lesser known, but still commanding Bollywood pairing of ace choreographer and film director Farah Khan, with her flop filmmaker of a husband Shirish Kunder.
Kunder, who is known for his and on- and off-screen antics (who can forget that infamous nightclub brawl with Shah Rukh Khan), has never been able to step out of his more vivacious wife's shadow.
Khan, who has given the world hit films such as 'Om Shanti Om' and 'Main Hoon Na', both of which have had combined box office earnings of Rs1.3 billion as per industry calculator, Box Office India, is married to the man who gave the world a film like 'Joker' last year, which even its lead actor Akshay Kumar couldn't find it in him to promote to his fans.
Kunder's earlier film, 'Jaan-E-Man' at least made some average numbers, despite having the combined star power of Salman Khan and Kumar.
Last we hear, while Farah Khan is helming her next hit venture with Shah Rukh Khan on 'Happy New Year', Kunder has been dropped from Salman Khan's 'Kick'.
Oh dear.
Follow Emirates 24|7 on Google News.