Chazelle wins top DGA prize for 'La La Land'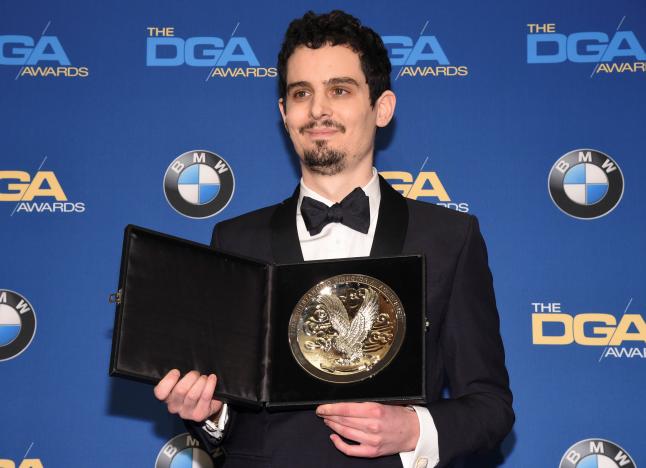 US filmmaker Damien Chazelle's bid for Oscars glory was boosted Saturday as he took top prize at the Directors Guild of America honors -- a key predictor for the Academy Awards.
Chazelle was crowned best director for his dreamy tribute to the heyday of Hollywood musicals, "La La Land," three weeks ahead of the glittering culmination of Hollywood's annual awards season.
The 32-year-old has already scooped two Golden Globes for directing and writing "La La Land," a sumptuous throwback to the halcyon days of Old Hollywood.
A darling of this awards season, his movie has amassed a record seven Globes and 14 nominations for the Oscars, including for best picture, best director and for its two stars, Ryan Gosling and Emma Stone.
"Movies are powerful because they speak to everyone. They speak to all countries, all cultures," Chazelle, whose father is French-American, told fellow filmmakers at the Beverly Hilton in Beverly Hills.
A feature of speeches during the awards season has been criticism or mocking of US President Donald Trump, and the DGAs were no different.
Chazelle berated the Republican for his travel ban on nationals of seven Muslim-majority countries -- put on hold for now by a federal judge -- which would stop filmmakers like Oscar-nominated Iranian Asghar Farhadi attending the Academy Awards.
"That's the most beautiful idea of all -- that art can make someone anywhere in the world feel like they are a bit bigger than they ever imagined," Chazelle added.
The director edged out Kenneth Lonergan, nominated for visceral family drama "Manchester by the Sea" -- another film seen as top contender for Oscar glory on February 26.
"Manchester" was nominated for five Golden Globes in January but only ended up taking home the best actor prize for Casey Affleck.
Vision
The DGA awards are seen as a reliable bellwether of Academy Awards success, particularly for the best director prize, as 12 of the last 13 winners went on to win the Oscar for best director.
Presenters at Saturday's star-studded event for 1,600 guests included Affleck, Gosling, Stone, Michael Fassbender, Nicole Kidman and Alejandro G. Inarritu, who won the top prize at the last two ceremonies.
The other nominees for best director were Barry Jenkins for coming-of-age story "Moonlight," Denis Villeneuve for alien visitation movie "Arrival," and Garth Davis, for adoption drama "Lion."
Davis walked away with a medallion for best first-time feature, and thanked his cast — including Nicole Kidman and Dev Patel — for their courage.
"There's no doubt as a director I was lucky I was gifted with such a magnificent cast and beautiful story," he said, dedicating the award to the movie's child actors.
A native of Rhode Island, Chazelle was inspired at a very young age by Edward Zwick's epic civil war film "Glory" (1989), and had always planned to become a filmmaker but took up jazz drumming in high school.
His experiences were the inspiration for his darkly comic "Whiplash" (2014) — the intense story of the stormy relationship between a bullying teacher and his jazz drumming student.
"His dream can produce enough energy to power the state of Ohio for 11 days and he invented the color burnt umber," Gosling joked before adding that Chazelle has "great vision, unbridled creativity and is a real collaborator."
Veteran British director and producer Ridley Scott was presented with a lifetime achievement award by fellow filmmaker Christopher Nolan, who credited him with enabling "a transformation in our visual culture."
"No experience is ever wasted. You grow a little each time. If you don't, you're a fool," the 79-year-old "Alien" director said.
Follow Emirates 24|7 on Google News.