Does Harman Baweja pack a punch in 'Dishkiyaoon'?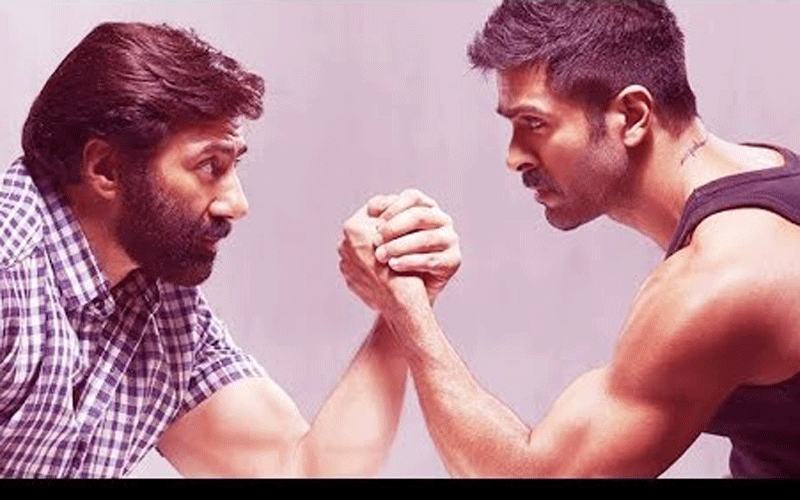 You know you are in a sticky situation when you catch two thugs flaunting themselves while crouching around a table in a dim, smoky room playing snake and ladder.

Yes, the board game which we all played long ago, makes an appearance in 'Dishkiyaoon'.

It, in fact, also teaches a valuable life lesson about how manipulating the dice to roll out the number six every time is an indication of one's fate. A few slow-motion shots reveal the hero's inability to capture the number six, almost hinting at the fate of where the movie is headed.

Debutant director Sanamjit Talwar's 'Dishkiyaoon' is a lethargic attempt at a story centering around the murky affairs of Mumbai's outlaws. The sluggish narrative over the first hour shifts between the past and present as we learn of how Viki abandons his Gandhian father to adopt the life of a criminal.

When he's not talking of guns and his thirst for power, you find him arm wrestling the older crook, or randomly sketching on the walls. It's that random or "poetic", as the filmmaker would have us believe.

So we watch Viki pledging allegiance to small-time rogue Mota Tony for stepping in to end the abuse he faced by a school bully. An act he accuses his father of not preventing.

He grows into a fine man who spends every waking moment puffing away, wearing leather jackets and dreaming of overthrowing the dons of Mumbai. Sadly, his actions never match his ambition.

So when he tells an Angelina Jolie-lookalike, who wears a guitar like a designer handbag, about being a "gangster" we end up chuckling because, until then, we've only seen him selling drugs.

In fact, he's a man of many contradictions. His peculiar way of repaying his two school best buds, for always sticking by him through those tough days, leave us amused. Even his ladylove, who first applauds him for being honest about his unlawful background, dumps him for not choosing the good life.

So while the plot introduces us to many villains, each more annoying than the other, they all endorse the principle that to succeed in the underworld, one must create a "rumour" about their heroics.

Viki too works towards creating a legend about himself, but one that ends up (unintentionally) uninteresting. The strategies he uses are so convoluted and devoid of any logic that we stop paying attention.

Harman Baweja, despite appearing earnest in his effort, lands at the bottom of the Bollywood gangster ranks. It is his lack of talent or versatility and uncanny resemblance to Hrithik Roshan that could be (partly) blamed for his debacle. The lack of a coherent plot and an unimpressive cast only adds to his downfall.

Sunny Deol appears aged and genuinely uninterested while Prashant is armed with nothing more than a leather jacket and a sly grin to make an impression. Both may boast of some good work in the past but their take on Lakwa and Mota Tony appear to be their worst yet.

Although actress-turned-producer Shilpa Shetty-Kundra sways in an item number to parade a svelte figure, her moves might go unnoticed as they appear at the end of the film.

I doubt whether many will be as determined as us to watch the full movie. As we walk out of the theatre, we are left with an image of Harmen pointing a gun at himself, almost echoing the state of our mind.

Follow Emirates 24|7 on Google News.