Dubai singer plans 32-hour concert in aid of cancer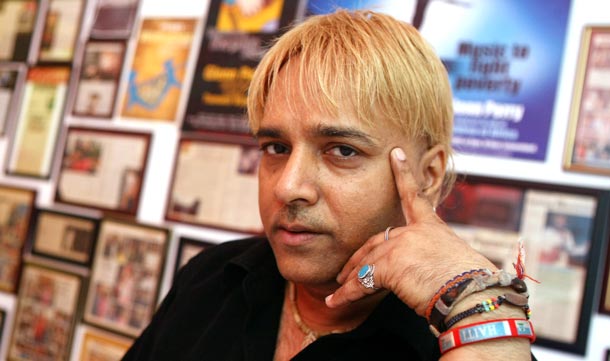 A mere three months ago, he held a 24-hour concert whilst on hunger strike in aid of World Hunger Day. Now cancer is the cause that will see Dubai's very own singer-songwriter Glenn Perry conduct a 32-hour karaoke marathon on February 4.
World Cancer Day will see this philanthropist kick off his marathon singing on Friday from 10am, concluding the following day at 6pm at Stargate, Zabeel Park.
Perry says that he will be singing in memory of his grandmother who died of cancer, and also in dedication of two of his friends who are currently battling life with the same disease.
Perry, known for hits "Laila" and "Tonight", has till date recorded 10 music albums in Los Angles and New York.
However, quiz him about his one true love and he says: "Nothing makes me happier than putting a smile on the face of a poor child. I want to give back to the community what I have received. I believe that the more you give back to the community, the more this world will grow to be a better place. I will continue doing charity because I care and I want to make a difference."
Not one to shy away from helping those in need, the singer still refuses to step down even when he has yet to fully recover from the accident in Haiti that had him pinned under the debris of a collapsed building during an aftershock to the devastating earthquake that very nearly destroyed the nation last year.
His one hand his been paralysed for nearly six months and his bruises have yet to fade, but for the 43-year-old, who shuttles between New York and Dubai juggling his music career, the show must go on.
Perry, who's been doing his charity work for nearly as long as he and his brother Giles have been running Dubai Music School for honing local talent, says that until his last breath he will continue in his fight to heal the world in any which way he can.
"I will do this till my dying breath," said the singer, adding: "If God is with me, nothing can stop me."
According to the Portuguese national, it is estimated that more than 84 million people will die of cancer by 2015 without intervention.
More than 12 million people are diagnosed every year with cancer and more than 7.6 million succumb to the disease.
The 32-hour Karaoke Marathon event is open to the public. Singers are also invited to sing and sponsor a song with a small donation for Cancer Relief.
Entry to the event is free.
Follow Emirates 24|7 on Google News.