From poverty to stardom: Indian classical saxophone player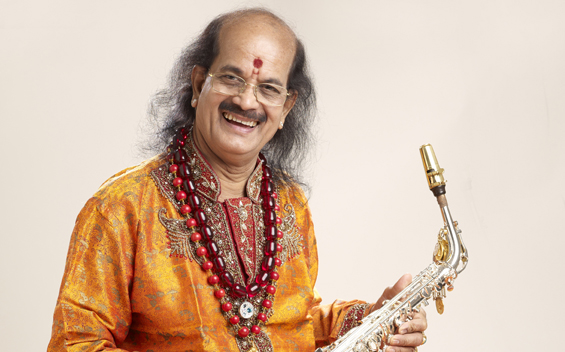 Dr Kadri Gopalnath the Saxophone Chakravarthy of India as born to hunger in a poor family in a small village in Karnataka, but with the wealth and encouragement he inherited from his father, Thaniappa, who is now grown to become a jet set Saxaphone Magician playing to an international audience. In very Indian village there are small time nadaswaram players, but this man's wonderful journey to success seems unprecedented.
Son of an ordinary nadaswaram expert in his home town of Kadri near Manglore, Karanataka, India, he has popularized not only Carnatic music by adapting it to a western musical instrument, Saxophone, but has placed Kadri, his small village in on the global musical map. He started practicing in Kadri temple, a 1000 years old Hindu temple, in Dashin Karnataka and used to drink water from a stream that flows uninterrupted throughout the year to fight hunger.
While nadaswaram performed during marriages, in temples and festivals was a means of livelihood for his father, as a little boy, Gopinath, developed an interest in Saxophone, after he saw one being played by the Mysore Palace Band. Now Dr Gopinath, India's classical saxophonist who adopted the western wind instrument to play the complex Carnatic music ragas to an international audience continues to practice and perform uninterrupted for the last five decades.
"Initially in the 1970s it was not a well-paying job as I got just Indian Rs 50 to Rs 75 (Dh 4 to Dh 6) per concert of four hours. Now I am charging Indian Rs 400,000 to Indian Rs 7,00,000 per concert for international shows," he said.
"I am just sixty five years old, not yet tired of playing classical music and ragas on Saxophone. I have never counted the number of concerts or the number of hours spent playing Saxophone, within and outside India, over five decades. I have travelled a long way in fifty years, and yet there is a long way to go in the world of music," Dr Kadri Gopinath, told Emirates 24|7. " He has performed different roles as --as a musician, composer, collaborator, teacher, innovator, humanitarian, family man .
While he inherited musical heritage from his father, he has nurtured his two sons too in the same tradition - Guruprasad Kadri and Manikanth Khadri. "My elder son who is now working in Dubai as a financial executive can very well play flute and my younger son is a very busy in South Indian film industry. He has become a busy music director for South Indian films and has directed music for 30 movies."
Now a jet set saxophone player is going around the world taking part in the saxophone concerts – he has performed in Dubai and Abu Dhabi two times, as a member of the annual Soorya Festival organized by the UAE Exchange to encourage Indian artists, but his connections to the City are many. "I have come to the Gulf region about ten times and will visit again if there is an invitation from the Saxaphone festival organisers or Indian community bodies," he said, adding that the Shetty family is encouraging local talents like him by organizing the biannual Soorya Festival.
Follow Emirates 24|7 on Google News.