'I'd rather stay away from SRK': Salman Khan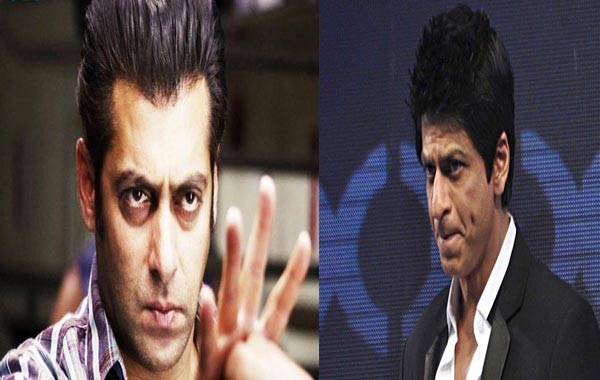 Salman Khan has been one of the most unpredictable personalities in the Bollywood movie industry.
The actor, however, has undergone a sea change with respect to his personality in the past few months. The man now smiles a lot to the media, he has learnt to come to the sets on time.
But then, the Pocket Hercules, is not in a mood to reconcile with Shah Rukh Khan even though King Khan has been trying to extend the olive branch in different ways. After all this is the third such fight between Salman and SRK and Sallu doesn't want to forgive him the third time around. He recently told close friends that if Shah Rukh really wanted to apologise, he could ring him personally instead of taking the matter to the TV networks.
Here's an exclusive chat with the one-time reclusive star.
Shah Rukh Khan said on Karan Johar's show that he is responsible for the problems between both of you. So can we see a patch up between both of you happening this year?
He passes my house around four times a day to get anywhere and to return from wherever he goes. If he wanted a patch up why would he say it on a TV show?
Vivek Oberoi also apologised...?
I forgave him because you know whether someone is serious or not in wanting to apologise and whether he seriously felt bad for his actions. I felt this (Shah Rukh's) apology came only to increase TRPs of the show.
So will you only forgive him if Shah Rukh comes to you and apologises?
I would rather stay away from such people.
Are you going to drink coffee with Karan Johar on his TV show?
Nothing has been decided as yet.
What was the experience of hosting "Bigg Boss 4" like?
It is a great experience. I was initially a bit scared because I wasn't too sure about the kind of people who would be coming on the show. But at the end of the day, it was a good one. Once the show started things were in. Be it a celebrity or a common man, it is their real personality that emerges out in a show of this nature.
What have you learnt from this show?
Well, I have learnt to come on time by doing this show.
Manoj Tiwari made some accusations against you. He said that you were the one responsible for his ouster and you played an active role in eliminating him from the show. Comment.
I think that Manoj's ego her been bruised badly. He feels that he cannot be voted out as he has a huge fan base. He felt that everyone else in the show would be eliminated, but he would have to be there till the end. However, that was not to be.
He also felt that the kind of money other people who are there on the show make is what he pays his servants. Well, there is someone called God who is right up there and has been watching all this.
Manoj was upset with the fact that he lost to Ashmit Patel, as he felt he was far superior to him and far more popular than him.

It is not at all mature to blame me or someone else for his failure. His real personality is now in front of everyone. If he did not have any ego problems, perhaps he would not have been out of the house.
Who are your favourite contestants on this "Bigg Boss 4"?
Manoj Tiwari. (laughs) It is actually Seema Parihar, but then she has been eliminated.
There was a lot of commotion due to the kind of content on "Bigg Boss 4". Your take?
Well there are a lot of shows on TV which are very vulgar in terms of content. There are several expletives which are mouthed on the show, but then they are beeped out. I do not think there is anything wrong with the content on "Bigg Boss 4".
A lot of people in the film industry now say that you have become very punctual and your image too has undergone a sea of change in the media. What do you attribute this to?
I am exactly the way I was. I have not changed. Yes, but then I have become punctual at my shoots and it is very important.

I have always been very professional about my work. But then professionalism is not to be measured only on the basis whether someone is punctual or not.
You recently won your first best actor award. Comment.
Well, I do not have anything in me which qualifies me to get a Best Actor award. I, in fact, implore people not to even nominate me for such awards. The love of my fans is enough for me.
Does this mean that you have no regrets that you never got an award till date?
If I had really wanted awards, I would not have missed out on a single award till date. Even you know what kind of things people do to get awards. I do not need to elaborate on this. So if people are getting awards, they deserve it.
There are a lot of people who are saying that "Dabangg" being a hit is not a very good sign for cinema.
See, we are here to make movies to entertain people. We are not here to make movies for ourselves. If we want to make the kind of movies we want, then we should not waste the producer's money. If someone wants to merely give out a message there are other ways of doing it.

Courtesy: Sanskriti Media and Entertainment
Follow Emirates 24|7 on Google News.