Is Rihanna trying to break up Chris Brown's new romance?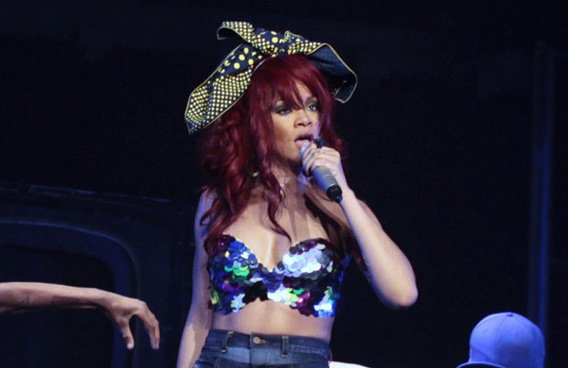 The American singer-songwriter, dancer and actor is currently dating aspiring model Karrueche Tran, as reported in the new US Weekly.
Brown, 22, and Rihanna, 23, have been hooking up in secret for nearly a year despite both his February 2009 assault of Rihanna and his present relationship with Tran.
The "Forever" singer and Tran were spotted together as recently as January 12, when a witness spotted them "dirty dancing" on the balcony of his Hollywood Hills home. Brown later escorted his love to a hair appointment at Salon Sessions, in Pasadena, California.
But Tran is fully aware that her man is cheating with his world-famous ex whenever he can, a Brown source says.
"Karrueche thinks Chris' studio is where most of the hookups have taken place."
And she's determined to hang on to Brown despite the presence of the "We Found Love" chanteuse, according to a source. "Tran won't give him up for a few discretions".
"Chris is a really passionate guy… He's still a hothead and he does what he want. He'll go off the grid and she'll wonder what's going on, but at the moment Chris and Karrueche are still a couple," the weekly said.
For the record, Brown's rep denies any rekindled romance with Rihanna. "He and Rihanna are just friends," the rep said. "He's not cheating."
This sounds too ridiculous to be true, but it looks like Rihanna wants her old man back.
According to a Life & Style report, Chris Brown and the Barbados native have spent more than just a Grammy Awards night together since the assault in 2009.
She's allegedly been in the studio with Breezy.
"Not only has she initiated a Twitter conversation with Chris for all to see, but she has gone to see him," a source told the magazine.
Maybe someone is trying to interpret something that isn't there, but Twitter messages have left some wondering if the former lovebirds are back on the romantic path together.
"She's trying to break up Chris and his girlfriend, Karrueche," the source said. "Chris is happy, but Rihanna keeps playing her games to make trouble. It's become an issue."
Does Rihanna still love Chris Brown? The question is in everyone's head!
Although considering to rekindle her romance with the R&B star, the red-haired starlet is reportedly worried about what people might think about them.
The source said, "Ri-Ri wants to be with Chris but is worried about her career and fans. She's trying to find a way to take him back publicly without letting down her supporters, her management and her friends or setting a bad example."
Follow Emirates 24|7 on Google News.