It's easy to say no to films: Kajol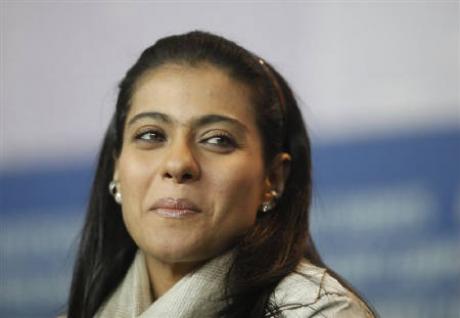 Kajol hates interviews and she says as much – she usually has nothing to say and no controversies to talk about.
Given a choice, the actress says she would much rather be home with a book.
Nevertheless, the 36-year-old Kajol, who is pregnant with her second child, settles into an interview with a cup of coffee to talk about her new film "We are Family" (a remake of the English movie "Stepmom"), working in a two-heroine film and how motherhood has changed her. Excerpts:

You are playing a role that has already been portrayed before. Is there a feeling that you may not be as original as you might have been otherwise?
Well, there is always that feeling that maybe you will or won't.
There is always the insecurity that you may not do justice to it because someone else has already portrayed it on an international stage.
But what you can do is hope that you have played it the way you want to play and given it your own unique flavour and persona.
Maya is very different from what Susan Sarandon played in "Stepmom".

"We Are Family" portrays a different picture of love and marriage as compared to films that you started out with.
I think entire concepts have changed in Bollywood, not just those of love and marriage, from the time that we started out like in a "Baazigar" where every film had to have a love story, whether it was a thriller or whatever other genre.
There had to be seven songs and the hero and heroine had to survive anything.
Now I have so many choices that it is actually easier to say no to a film now than it was earlier – because I have those many roles in front of me.

This is also a film where the role of the hero is almost peripheral and it is a heroine you have to respond to. Was that difficult?
Well, it wasn't difficult but it was different.
There haven't been a lot of films in recent times where the two main protagonists have been women. In fact, there haven't been two-heroine films in ages.
Thankfully the script was very well written so there was no problem. And it is fun to react and respond differently.
I have known Kareena (Kapoor) since the time of "K3G" but this time we actually had to react to each other, so that was fun.

You are about to become a mother for the second time. How has motherhood changed you?
Well, I would like to believe that I have changed over the years and a lot of that has to do with becoming a mother, having a child, taking on responsibilities. But I am not always the perfect mother.
Some days I am a better mother, some days a better wife, some days a better daughter-in-law and some days I am just a better me, when I just want to sit in my room and read a book.
If you aim for perfection you will always fail: better to aim to be what you are and do that to your best.
But yes, my daughter is the best gift anyone could have given me. She is brilliant, intelligent and I cannot stop singing praises of her.

In the film, your character is a hands-on mother. Are you like that too?
No, because I believe that a balance of both is important.
You cannot be making lists all the time.
But I cannot tell you how many women I know who are like that, trying to be the perfect mothers.
So it wasn't difficult to imagine that kind of character.

So is there going to be a long break when the baby comes? How long?
I have no idea. Depends on me, depends on the baby. As of now, I have nothing planned.
"We are Family" is released across the UAE on September 2
Follow Emirates 24|7 on Google News.