Julie Andrews, Ramones receive lifetime Grammys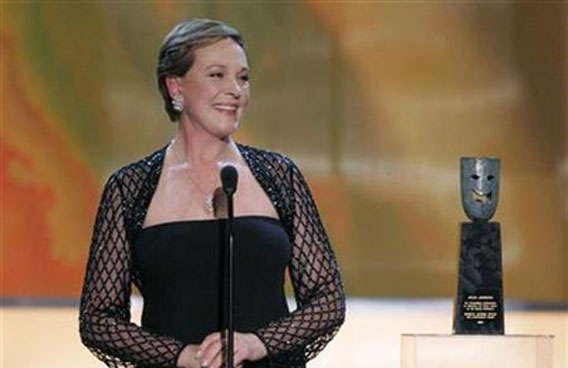 Punk pioneers the Ramones, British actress and singer Julie Andrews and jazz drummer Roy Haynes were among the diverse musical stars who received Grammy Awards for lifetime achievement Saturday.
They were honored at a ceremony alongside country music's Dolly Parton, the Juilliard String Quartet, folk revivalists the Kingston Trio, and gospel legend George Beverly Shea, whose rich baritone is still intact at age 102.
The event took place a day before the 53rd annual Grammy Awards are handed out, and the honorees will be acknowledged during the telecast. But that was not enough for the brother of late Ramones singer Joey Ramone.
"This should be televised tomorrow night, and you should bump Justin Bieber," joked Mickey Leigh.
It was a bittersweet moment for the Ramones, a group whose stripped-down, fast-paced songs such as 'Blitzkrieg Bop' and 'Sheena Is a Punk Rocker' paved the way for bands like the Sex Pistol and Green Day.
But they never achieved commercial success, and three of the founding members died in the past decade: bassist Dee Dee Ramone and guitarist Johnny Ramone, as well as Joey Ramone. The members were not related, and took fraternal stage names.
Still recording and touring is Haynes, a seminal figure in the postwar jazz scene who played with Miles Davis, Dizzy Gillespie, Thelonious Monk and John Coltrane.
"Now that the days are short, we're in the winter of the year, and I think of my life as vintage wine in fine old kegs," he said, waxing poetic. "I ride in limousines, the chauffeurs they drive, now that I'm 85."
He was a rookie compared with Shea, who is confined to a wheelchair but full of one-liners. The Canadian native, who composed the popular hymn 'The Wonder Of It All' and joined the Billy Graham Crusade in 1940, surveyed his fellow honorees and said he was reminded of the farmer who wanted to race a mule in the Kentucky Derby.
When asked why, the farmer replied, 'Look at the company he's keeping'.
Andrews, 75, used the occasion to draw attention to budget cuts affecting school music programmes. She became one of Hollywood's biggest stars by playing prim and cheery nannies in the 1960s hit movie musicals 'Mary Poppins' and 'The Sound of Music'.
Parton, 65, was unable to attend because of a family commitment, she said in a recorded video message. Noting she had already won seven Grammys, she said she was working on new music and expected to double her collection.
The Kingston Trio, best known for 'Tom Dooley', helped lay the groundwork for the folk revival of the 1960s. Sole surviving founding member Bob Shane said an authorised group was carrying on the legacy and that would-be folkies could even attend a Kingston Trio fantasy camp.
"I'm not sure what the fantasy is," he added. The Juilliard String Quartet has also gone through many lineup changes since it was founded in 1946. Among the recipients was Robert Mann, who was first violinist for its first 51 years.
Follow Emirates 24|7 on Google News.