'Kai Po Che' boys spin their magic on Dubai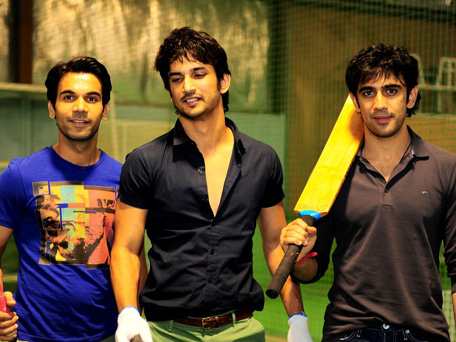 Bollywood is known to feed gloated egos and starry tantrums, so when three young actors, minus those staple celeb traits, stepped into Dubai, it was evident they were new on the circuit.

Sushant Singh Rajput, Raj Kumar Yadav and Amit Sadh, might have been fashionably late for our tête-à-tête at Grand Hyatt, but barring that hint at imminent stardom, the men were extremely grounded and their enthusiasm cheerfully contagious.

As they tucked into fruits and salads, and sipped their chilled drinks, we chatted on all things 'Kai Po Che' and how they've, by virtue of their film, turned into "friends for life".

They lucked out on the camaraderie with the trio getting along the first day of auditions. "We hit it off instantly, and at that point we didn't even know if we were going to be in the movie together, but that first audition tape has captured our chemistry," told Sushant.

"First day it was chemistry, then it was physics, and biology came later on," joked Amit, who appeared visibly fatigued, yet equally excited about tackling the barge of media queries.
This is the first big Bollywood movie for Sushant and Amit, who've had their slice of the fame pie albeit on television, and the seventh for Raj Kumar. It's the second for director Abhishek Kapoor, whose debut movie 'Rock On!!!' went on to celebrate huge success.

Based on writer Chetan Bhagat's 'The Three Mistakes of My Life', 'Kai Po Che' explores how certain (true) political, religious and sporting events impacted the life of three childhood friends in the Indian state of Gujarat.

Although the actors didn't make it to the Berlin Film Festival, where their movie premiered to a packed audience on February 13, they were equally inquisitive about the verdict.
The details derailed the interview as the three probed for more details, enquiring eagerly about the reporter's own impressions.
Once that was tackled, the men were visibly much more relaxed and gratified that their work, on-screen, didn't fail their own expectations.

Or, that of writer Chetan, who had apparently given it his stamp of approval. "He said the movie does full justice to his book," revealed Raj Kumar.
That, however, wasn't planned. "I don't think Gattu (director Abhishek) set out to make a film that did justice to the book. He was greatly fascinated by the fictional story that was set against real-life incidents of 2001," explained Sushant.

Despite acting in smaller, yet impactful, roles, 'Kai Po Che' is Raj Kumar's real break. It doesn't, however, take away from his earlier achievements. "This is just as special as 'Ragini MMS' or 'Talaash'. I'm faithful to all my films, and I'm honest to all my characters. My process… my journey as an actor is the same."

Raj Kumar, actually, insisted he had premonitions that the book would be made into a movie. "I had read the book when it first came out, and I felt it will make a good film," he proudly announced. "Even Amit", he claimed, "had a similar incline.

"That time, '3 Idiots' (loosely based on Chetan's earlier 'Five Point Someone') was being made so I thought why not this book?" In fact, he even fancied playing the business-minded Govind, whom he eventually enacted in the movie.

Sushant, however, didn't have such foresight, and read the script first and then, the book. "Chetan was very famous in my college, and I had read all his books, but missed out on this one. And, I'd consider this as a mistake in my life," he kidded.

Being urban Delhi boys playing rustic Gujarati lads did come with its own set of difficulties. "We didn't want to turn them into caricatures. Being middle-class and playing boys from a small town was challenging. We did a lot of workshops together. We worked on our dialect and had a diction teacher," elucidated Amit.

They even worked on the physicality of the characters. "Ishaan is a cricketer, so Sushant had to slim down in six-weeks. When he started out he was fat, but his character demanded six-pack abs. It's not because he has to strip and dance, but because he is a sportsman.

"I play Omi, who is the son of a priest, and his body language is different. He does go to the gym, but to the traditional one. He needed to be big and robust," explained Amit.
He, in effect, has abandoned his TV career for Bollywood, claiming he's in "pursuit of good characters". Back in the day, he clashed with a few big wigs, but is aware that the movie etiquette is far more refined. "I've been taught to call a spade, a spade. I was young and impulsive, and mostly misunderstood. I'm still the same but I think I've learnt how to keep quiet."

Sushant, who enjoyed immense admiration for his TV role and his off-screen romance with his co-star Ankita, had dumped his highly impressive academic track record and literally danced his way into showbiz.

"I was just doing what my four older sisters were doing, but after joining college I was disappointed that there were no girls around," he chuckled. "So, I quit."
It was after being appreciated by British-born theatre director Barry John, who also trained Shah Rukh Khan, that gave him confidence. "Even if I didn't get paid, I just have to do this all my life."

Now, that 'Kai Po Che' is done and dusted, the men are focusing on their next projects. Raj Kumar takes on the central role in a biopic 'Shahid', while Sushant has the celebrated 'Peekay' and a movie with famed director Manish Sharma. It's only Amit who is yet to sign on the dotted lines.

"I waited for six years for 'Kai Po Che', hopefully I wouldn't have to wait another six years," he added.
The men aren't allured by the sudden adulation. "These are just fleeting moments. Things will change post February 22," concluded Raj Kumar.
Follow Emirates 24|7 on Google News.