Kendrick Lamar scores biggest US album release of year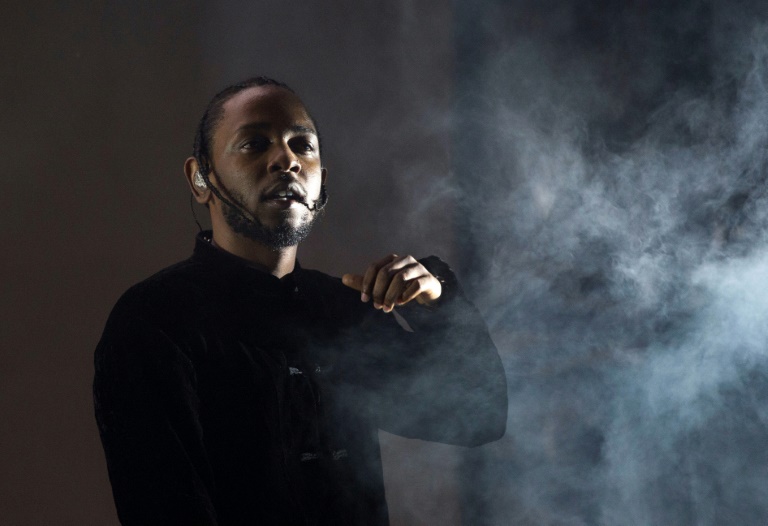 Kendrick Lamar has pulled off the biggest US album debut this year with "DAMN.," an introspective work of hip-hop storytelling that features Rihanna and U2.
"DAMN." sold 603,000 copies or the equivalent in streaming and downloads in the week since its April 14 release, tracking service Nielsen Music said late Saturday.
Entering at number one on the benchmark Billboard chart, "DAMN." sold more in a single week than any other album so far this year.
"DAMN." follows Lamar's 2015 album "To Pimp a Butterfly," which has quickly been hailed as a hip-hop classic with its innovative infusion of jazz and its lyricism that explored the state of black America.
While "DAMN." has similarly won wide praise, it brings a more classic rap style, even with a pop-oriented collaboration with Rihanna and a guitar rock fusion with U2.
"DAMN." is a highly personal work and culminates with a track in which Lamar recalls his father being shot while working at a Kentucky Fried Chicken branch in the Los Angeles area.
While "DAMN." also has political references, Lamar said in an interview aired Friday that he did not want to focus too much on President Donald Trump.
"I wanted more self-evaluation and discipline because of what's going on now," he told Apple Music's Beats 1 radio.
"We're not focusing on him," he said of Trump. "What's going on now -- we're focusing on self."
Lamar's track "Alright" from "To Pimp a Butterfly" became an unofficial anthem of the Black Lives Matter movement. The rapper's admirers include then president Barack Obama, who invited Lamar to the White House.
Lamar topped the "More Life" collection by Drake -- the Toronto rapper known more for crowd-pulling dance tracks than social commentary -- which had earlier held the crown for biggest US album release of 2017.
But "DAMN." remains well below Drake's last full-fledged album "Views," which sold more than one million copies in its first week after its release a year ago.
The comparative sales figures are sure to be scrutinized as Lam
Follow Emirates 24|7 on Google News.