Madonna to perform in Abu Dhabi on June 3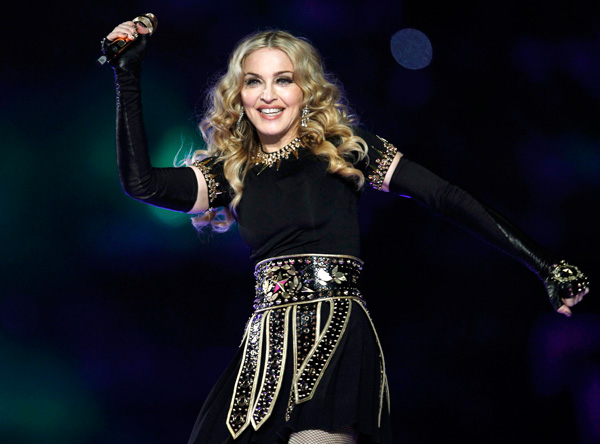 It's time to party with the 'Material Girl' Madonna and everybody in the UAE is invited.
The seven time Grammy winner is coming to the UAE next June to perform at Yas Arena in Abu Dhabi on June 3.
Her World begins on May 29 2012 and this time it's not any leaked document but officially announced by Live Nation Entertainment, the tour's international promoter.
After dazzling on Sunday in Super Bowl half time, Madonna showed what material she is made of and what fans can expect from her come June.
The tour will stop in 26 European cities including London, Paris, Milan, Berlin as well as Abu Dhabi, on June 3, 2012.
The tickets go on sale from February 27.
The shows will include arenas, stadiums and special outdoor sights including the Plains of Abraham in Quebec and a return visit to South America and Australia where she has not performed in 20 years.
The first of 26 North American shows is scheduled for August 28th in Philadelphia and includes a September 6th show in NY's Yankee Stadium and an October l0th performance at LA's Staples Center.
Madonna's phenomenally successful "Sticky & Sweet" Tour reaffirmed her status as one of the most successful touring artists of all time.
The historic tour included such incredible touring feats as a 70,000 seat sell-out in Werchter, Belgium, a 76,000 seat sell-out in Helsinki (the largest show ever in Finland by a solo artist), 40,000 tickets sell-out in Oslo, Norway, and 72,000 tickets sold out in one day in Tallinn Estonia.
"Madonna's track record as a world class entertainer and touring artist speaks for itself. Her artistry, talent and creative productions get bigger and better with each tour and Madonna 2012 will be no exception. We are thrilled to have her back on the road and know her fans feel the same," commented Arthur Fogel, CEO Live Nation Entertainment Global Touring and Madonna tour promoter.
Over the course of her extraordinary three decade career, Madonna has sold over 300 million albums and holds the record for the most successful tour by a solo artist in history.
The singer, songwriter, producer and Rock & Roll Hall of Fame inductee. Her last CD "Hard Candy," debuted at No. 1 in 37 countries including US, UK, Canada, France and Australia.
Madonna 2012 World Tour is the Material Girl's 9th Tour. Her first tour was the l985 Virgin Tour.
Follow Emirates 24|7 on Google News.