Nude publicity stunt: Sheryln Chopra back in Kamasutra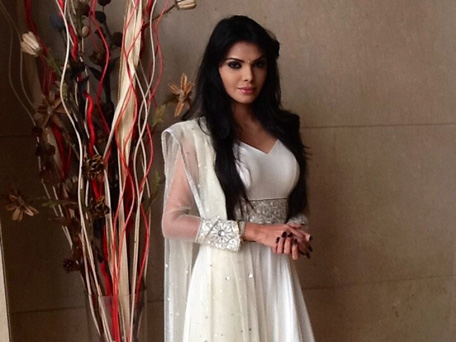 Popular for her striptease act on Twitter, Sherlyn Chopra posted several nude posters, stills and video clips from her forthcoming movie 'Kamasutra 3D' on micro blogging website.
We hear nothing immediately from the filmmaker Rupesh Paul. The pictures and video goes viral after being picked up by Indian media.
Almost like a pre-meditated move the director reacts, miffed with Sheryln for posting his movie clips. He goes to media and expresses his angst.
Rupesh said, "I was shocked to see the video. While sharing the video, I had specified it's not for public viewing, but she still went ahead and uploaded it without our permission. We were so upset with her unprofessional behaviour that we decided to start considering other heroines. So far, we have shortlisted Eva Longoria or Mila Kunis. Kama Sutra is a more popular concept in West than in India so it doesn't matter if the actress is Indian or American."
Yet again Sheryln made it to the news. The starlet was angry, went berserk on Twitter and said she sought permission to upload video clip of the photo-shoot of the film on her YouTube channel.
But with shooting of 'Kamasutra 3D' in process, there were less chances that Rupesh will replace Sherlyn with another actor.
We predicted this whole episode could be a planned publicity gimmick. Now read the rest of the story to believe what we said.
Almost a month after she upset the director and was kicked out of the movie, Sherlyn and Rupesh have now patched up.
Sherlyn wrote on her Twitter page, "I've got just two words for those who assumed that 'Kamasutra 3D' would be made without me..... Any guesses???"
An English daily quoted Rupesh as saying, "Sherlyn has assured me in writing that going forward she will not do or say anything to promote the film without the prior consent of the producers."
The daily also quoted Sherlyn Chopra as saying, "In hindsight, I agree that prudence should always precede passion. Henceforth, I won't do anything just out of passion, but also with due diligence, keeping the best interests of everyone at heart. I'm looking forward to shooting the movie, an adaptation of one of India's most ancient manuscripts."
All we can say that the duo and the publicity team of the film has scripted this promotional move pretty well.
Now we suggest they get back to real reel work, which will only help in the long run, rather than creating fake fights for publicity sake.
MUST READ:
Bollywood forgets: Manish Koirala fights cancer alone
Mila Kunis, Ashton Kutcher to go wild on India trip
Imam effect: Bigg Boss 6 stars get funny for new comedy show Nautanki
Follow Emirates 24|7 on Google News.