'Rangrezz' paints a gritty picture, but lacks sheen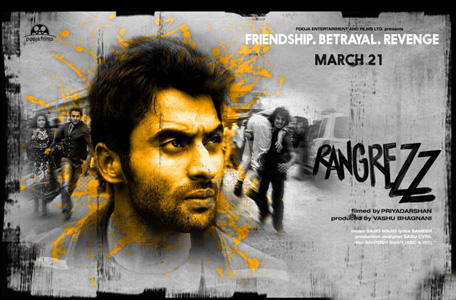 Everyone knows that Kajol famously declined a role in Karan Johar's 'Kabhi Alvida Na Kehna' because she didn't believe in the very idea of infidelity that was the basic premise of the 2006 drama.

The episode came to mind whilst watching Priyadarshan's 'Rangrezz' because, despite the sincerity shown by its makers, the belief system of the audience takes a steady beating when watching the plot unspool on screen.

Picture three friends, whose lives literally falls apart at the seams when uniting two star-crossed lovers. Yet, none lays blame at anyone's doorstep for the physical disabilities they are now forced to live with in the aftermath of the melee that ensues.

What's more, two out of the three champions don't even know the couple they are writing the alleged happy ending for, and feel no remorse when one loses a limb while the other turns deaf.

Maybe in Bollywood friendships are made of sterner stuff, but destroying your life for virtual strangers is not a concept that I would bank my money on. However, considering 'Rangrezz's formula has already worked in its Tamil avatar 'Naadodigal', maybe the filmmakers know something more about its target audience than the critics.
'Rangrezz' by definition describes someone dyeing clothes; in the film's premise, he's someone who breathes colours into lives.

Rishi Deshpande (Jackky Bhagnani) is that someone, who would making his own life a colourless existence if it means splashing some hues on to his friends.

Rishi, along with Winu (Amitosh Nagpal) and Pakya (an impressive Vijay Verma), live a carefree middle-class existence in Mumbai's urban jungle, with hopes and dreams of a career and blissful wedded life some day.

However, life takes an unexpected turn when Rishi's childhood friend Joy (Raghav Chanana) attempts suicide and the story spills out that a woman is involved.

Soon enough, the quartet, along with a fifth nameless individual that is never really identified in the movie, set out to abduct the girl.

While this attempt is successful, the consequences are grave and the repercussions even worse.

One would think the story ends here, but Priyadarshan helms an eye opener that takes us further into the realities of a fickle thing called love and how many times young blood fails to understand that what they are so passionately fighting for is in fact mere lust.

The director, whose impressive film record is the stuff of legends, extracts meaty performances from some virtually unknown stars and walks a fine line between teaching and preaching in this gritty drama.

However, Priyadarshan films are never without melodrama and Rajpal Yadav's Maan Singh brings that predictability into the script as a waiter forced to help the trio in their antics.

As an actor, Bhagnani in the lead has certainly improved leaps and bounds since his first cinematic outing in 2009's 'Kal Kissne Dekha'. And while the actor holds his own in emotional and action scenes, what he lacks is an impressive screen presence or the chutzpah that is an essential personality trait for a star.

Nagpal goes through the motions but it is Verma's slightly crazed, Mumbai street lingo that is so artistically aped in his mannerisms. It is safe to say that Verma could very well go on to be another Nawazuddin Siddique if he chooses his future films with care.

In the end, 'Rangrezz' is an eye opener for today's youth, but lack of star power or screen presence may fail to get that message across to the masses.


Follow Emirates 24|7 on Google News.