Saif Ali Khan's 'Humshakals' act could make Kareena insecure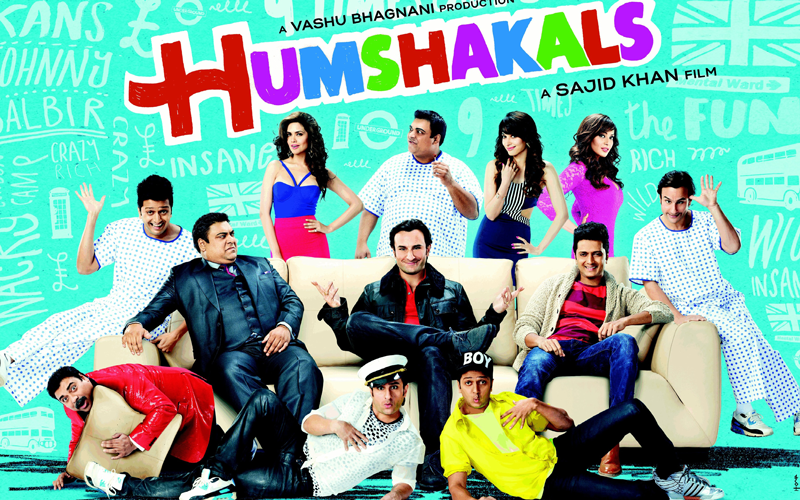 "My three-year-old niece cracks better jokes than this," an English woman tells her friend barely few minutes into the movie, and that pretty much sums up Sajid Khan's attempt at comedy.

He packs in a bunch of old school PJs (poor jokes), hires three good-looking women and three men, who triple up into various shapes, sizes and hair-dos, to tickle us over two-hour-and-a-half-hours of screen time.

Does it all add up to loads of fun and laughter? Well, not really.

However, if I could've hopped on to a time machine and gone back to being a five-year-old or mastered the power to detach my brain from my body and leave it at home, then probably the outcome would've been a little different.

Left without those choices, and with my age and grey cells in place, Sajid's 'Humshakals' is a boring, silly and infuriatingly long film.

And, it's not like he's unaware of the mess he's created. In fact, he even explains his weakness for making "bad" movies as his "passion", albeit indirectly.

While it's evident that Sajid possesses fondness for humour of a strange kind, we can't help but wonder if 'Humshakals' also unintentionally exposes his aptitude for mathematics or things scientific.

No, this isn't a joke!

He excels in division and multiplication, creating triple roles for his three leading men and using numerous permutation-combinations to try to generate laughs. He even adds in his share of bizarre scientific theories, if you can call them that. There's MAD – Mind Altering Drug, that turns sane men into dogs, Stage-3 OCD, where a sneeze could lead to life-threatening situations, and pheromones that helps obnoxious "women" attract men. Each situation can be easily cured through unscientific Bollywood methods like a lollipop or even a kiss.

There's even an aged man stuck in coma, for six years no less, because he was not plugged properly.

That's not all, Sajid even slips while representing celebrated names in history.

While it's a norm in Bollywood to show heroes address native English speakers in Hindi, this would probably be the first movie in which a strange-Prince Charles-lookalike speaks fluent Hindi.

The hero and his best pal, who spend their waking hoursmimicking Bollywood greats or being shuttled from one mental asylum to another, find themselves in a sticky situation when a greedy uncle tries to throw him out of his dynasty.

The plot gets complicated when their nutty lookalikes enter the scene. And, go over the top, when yet another set of lookalikes enter the picture.

Between all this, there are a few song-and-dances, three pretty girls with prettier short dresses and a villain who also ends up being cloned.

Even Sajid's infamous 'Aakri Pasta' from 'Houseful' makes a cameo, and you wish he'd have stayed longer.

Of the three Saif Ali Khans, we like the effeminate one because that's where he appears the most natural. For the other two, we can't help but get distracted by his Botox-frozen face, and an unflattering hairdo. Even his expressions are locked down by the Botox-jabs, but the few he manages to twist out end up as looking like a strange pout and an unnerving squint. It's the one where he dresses like a girl that throws up an uncanny resemblance to his first wife Amrita Singh, unintentionally, of course.

Of the three Ritesh Deshmukhs, we like the sane Kumar, who occasionally dresses as a girl. His expressions and body language are spot-on, and was probably our only comic relief. His other two performances are equally faultless, displaying his superior comic talent. Unfortunately, Sajid doesn't provide him the stage to showcase his true potential.

Of the three Ram Kapoors, we like the Punjabi club owner, only because he's fairly inoffensive and doesn't spit out his lines. His take on the conniving uncle is decent, and so is his take on stage-3 OCD.

The women are the perfect eye-candy. Bipasha Basu works hard to flaunt her toned long legs, while Tamanah flashes her body-tight dresses when not hosting telly show 'Who wants to be a millionaire'. And Esha flutters her eyelashes when not holding a bone. Of the three, it's Esha we pick for earnestness.

At one point, the wealthy Ashok asks his loyal friend Kumar, "Will you take me for a ride?" He responds in the negative. Soon enough Ashok escorts him to his private helicopter and chuckles, "So let me take you for a ride!"

With such "funny" lines, Sajid's writer pal Adhir Bhatt creates numerous "gems".

So, if you thought Sajid's 'Himmatwala' was the worst movie ever in Bollywood, then you are wrong. The title has now been handed over to his latest attempt at slapstick comedy.




Follow Emirates 24|7 on Google News.