Salman Khan & Shah Rukh take their rivalry to cricket field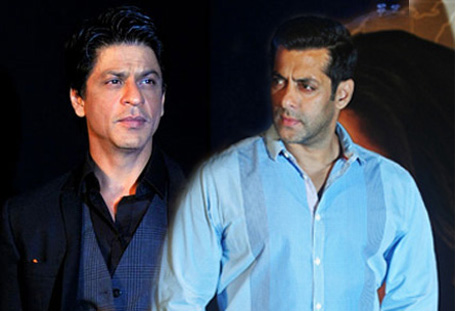 Bollywood superstar Salman Khan lends his star power to Celebrity Cricket League (CCL). Salman is neither the official brand ambassador nor an owner of a team but he is the unofficial force behind this league.
The Celebrity Cricket League, now in season 3, is a sports entertainment event where movie stars from Tamil, Telugu, Kannada, Kerala, Bangla, Marathi & Hindi film industries lock horns.
Salman, who played in the first season for Mumbai Heroes, now only makes guest appearances. He is present during most of the matches, travels with the teams whenever they play in Dubai and attends the opening ceremony as guest of honour.
But his colleague Shah Rukh Khan is not a part of this celebrity event. SRK would rather own a team in the cash-rich Indian Premiere League (IPL). He would rather launch the Toyota University Cricket Championship (TUCC) than be part of Salman's baby.
Attending the grand opening ceremony of TUCC, SRK said he personally doesn't have time to play cricket and the Celebrity Cricket League (CCL) doesn't need a "smaller star" like him. Ah sarcasm!
Well, we all know that the famed arch rivals love taking digs at each other in public.
On one hand, SRK doesn't want to be part of CCL and on the other, Salman wants to stay away from IPL.
In 2011, when Salman and his brother Sohail Khan (owner of Mumbai Heroes) came to Dubai to promote CCL, Emirates24|7 categorically asked them about their interest in IPL.
Sohail decided to answer the question saying they want to stay away from IPL and the politics it brings to the game of cricket. They want to play the game and enjoy it.
Looks like both camps want to have fun and enjoy cricket but within their own territories.
While attending TUCC opening ceremony recently, Shah Rukh said there is a need to create alternate professions for youngsters in the country (India) and sports is the greatest profession.
TUCC is an initiative to promote cricket at the university level to contribute towards the revolutionary concept of promoting young talent.
SRK also believes professionalizing sports in India is perhaps the most important aspect in promoting wellness among youth and raising the level of the game.
However, these might be just words from the actor and savvy businessman. After all, SRK had once refused to help rising badminton star Saina Nehwal when she badly needed a sponsor! Saina struggled but went on to win an Olympic medal.
So if superstars like SRK do not come forward to help bright sportspersons, who will?
It's about time the two biggest force of Bollywood, Salman Khan and Shah Rukh Khan, kept their petty issues aside and joined their hands together to give back to the society.
The two have already divided Bollywood with their rivalry; it is only fair to expect these stars not to bring their enmity into the cricket field.
Follow Emirates 24|7 on Google News.