Salman steals Shahid's thunder in 'Phata Poster Nikhla Hero'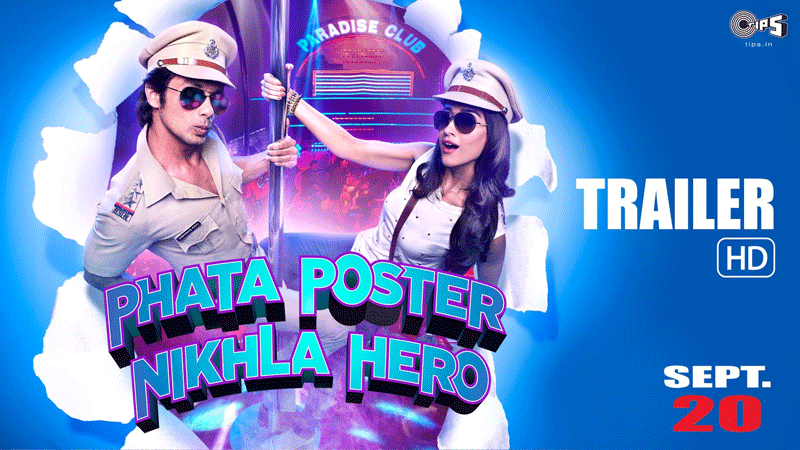 Every true-blue Indian must nurture a Bollywood dream, at least that's what most Indian filmmakers want us to believe.

Whether it's Ram Gopal Verma's isolated poignant drama 'Naach', or Dibankar Banerjee's impeccable take on a struggling artist in 'Bombay Talkies', or Chandan Arora's unfortunate tale of forgotten dreams in 'Main Madhuri Dixit Banna Chahti Hoon', Hindi cinema is chock-full of stories that elevate the quintessential Bollywood dream.

So when the leading man in Rajkumar Santoshi's 'Phata Poster Nikhla Hero' tears open a film poster and bursts into the frame and pompously declares his undying love for cinema and diligently chants famous movie lines, you know it's a movie that's dreadfully outdated and unapologetically self-glorifying.

Rajkumar, who dons many hats –of director and writer -- could've probably redeemed himself if he had exercised his moviemaking acumen and invested in a story instead of relying purely on a handful of dated jokes, a few pleasing tunes, a handsome bloke and a pretty woman. But, that's exactly what he does. In fact, he sticks to the formula that had surprisingly won him box-office (and critical acclaim) for his earlier blockbuster 'Ajab Prem Ki Ghazab Kahani'.

Hopefully, this time round, the audience wouldn't be as charitable, and would be miserly with their appreciation.

Rajkumar banks on his winning strategy. He borrows famous dialogues from earlier hits, hires a sultry item girl, randomly ships his lovers to exotic locations for a soundtrack, and even gets Salman Khan to step in for applause.

It might've worked in 2009, but five years on, surely he would need to invest in a little more than just inane tactics to tickle us. At two-hours-and-twenty-five-minutes, Rajkumar's attempt at comedy is a slog and excruciatingly tiring.

Much like what the trailers announced, 'Phata Poster Nikhla Hero' is about small-towner Vishwas Rao, who persistently pursues his dream of becoming a hero, even when his mom insists he take up a career in the police force.

Fate eventually takes him to Mumbai, the city where every Bollywood dream magically comes true. So, while his loving mother patiently waits for her son to turn into a cop, he scouts around for movie roles.

A comedy of errors unfolds when she heads to the city at the pretext of watching her son live out her dream. And, between all this madness, there's a love story, a lesson in righteousness, an attempt at unleashing a chemical terror attack, and (even) an emotional thread highlighting a mother's eternal love.

With so much going on, it's tough to comprehend whether we are supposed to laugh, sulk, cry or yell (at our misfortune). The misery would've been a little more tolerable if the handful of actors were a little more genuine in their effort.

For someone who enthralled us with his incredible act in 'Kaminey', Shahid Kapoor is a huge let-down. He scrunches his face and flashes his smile aimlessly, and breaks into a dance without any rhyme or reason.

He's talented, no doubt. But this movie doesn't focus on that. And, being an actor requires, among other things, an ability to select a good script over a bad one. And that's a skill Shahid needs to work on.

Ileana D'Cruz, who stunned with a poignant portrayal in 'Barfi!', bounces in and out of the screen in a bid to make us laugh. That she looks stunning makes her absurd drill less painful.

Even Nargis Fakhri gets a chance to doll up and step into Katrina's famous shoes in a 'Chamak-Chalo'-styled number, and she does it faultlessly.

Veterans like Saurabh Shukla and Darshan Jariwala are heavily wired up and their comic exploits slip into buffoonery more often than not. Clearly, this isn't their best.

Yesteryear's leading lady Padmini Kolhapure, who had to endure so many inanities in one film, stands her ground as the doting mom commendably. Apart from her, it is Salman Khan who appears controlled. He cheekily plays himself. An art he has mastered over the years.

For a filmmaker who has made movies like 'Lajja', 'Damini', and 'Ghayal', this one is a let-down. And, with hints of a sequel for his classic comedy 'Andaz Apna Apna', we'd just hope it just doesn't end up in a mess, like this one.

Follow Emirates 24|7 on Google News.