Some sympathy for Thatcher in Argentina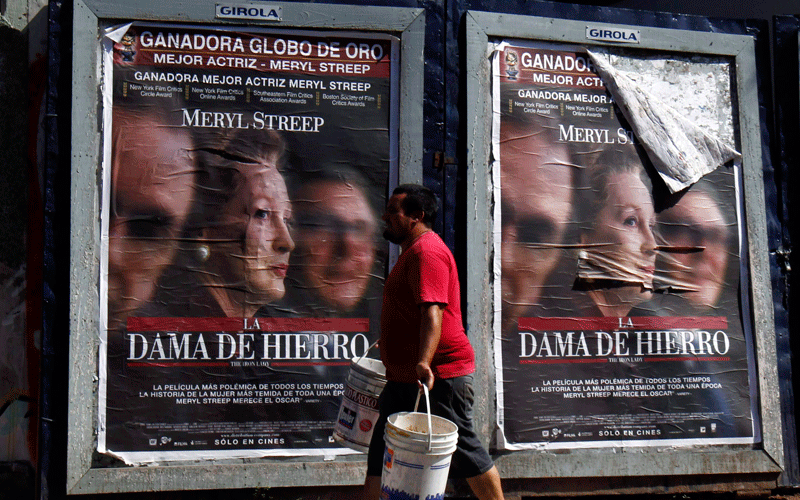 Long reviled in Argentina for leading Britain to war over the Falkland Islands, Margaret Thatcher's portrayal as a vulnerable, elderly woman suffering from dementia in new film "The Iron Lady" has won her newfound sympathy with Argentine moviegoers.
The Oscar-nominated film shows Thatcher, the 86-year-old former British prime minister, as a confused and lonely old woman remembering flashbacks of her divisive political career, and its release comes as diplomatic tensions over the Falklands are flaring anew..
"The image of the old woman makes me sad, it's an image of the tremendous solitude that comes with power," Alicia Fischer, a retired chemical industry worker said after seeing the film featuring Meryl Streep when it opened in Buenos Aires this weekend.
Argentina's invasion of the British territory on April 2, 1982, is seen by most people here as a terrible mistake by the discredited military dictatorship in power at the time, but they also believe that the islands are rightfully part of Argentina.
Fischer said she will always see Britain as the enemy, but her perception of Thatcher changed after the film.
"You have to put yourself in her shoes," Fischer said. "She did what she had to do for her country ... At any rate, it's not easy to be a stateswoman in a country like Britain."
Thatcher broke gender and class barriers in her rise from humble beginnings as a grocer's daughter to leader of Britain's Conservative Party and then prime minister.
British Prime Minister David Cameron praised Streep's acting but criticized the depiction of Thatcher as a frail, elderly woman and suggested the film should not have been made while she was still alive and suffering from dementia.
Gabriela Michetti, an Argentine opposition lawmaker, said the film humanizes Thatcher.
"It shows the contrast between her weakness and her firmness bordering on cruelty," Michetti said as the credits went up. "You can see her youth, how much she fought against obstacles in a man's world and as a grocer's daughter ... It's the first time I see her this way."
The audience at a packed Buenos Aires movie theater on Friday sat quietly transfixed by the film. The only murmurs came when Thatcher, in her trademark suit and power hairdo, orders the sinking of the battleship General Belgrano that killed 323 Argentine sailors in what was a turning point in the war.
Success on the Falklands battlefield boosted Thatcher's popularity, which had been dented by a recession, and contributed to her party's 1983 election victory.
To Ernesto Alonso, who was sent to fight in Las Malvinas, as they are known in Spanish, as a young conscript, the film is a must-see.
"She was the harshest symbol of the policies of the empire," Alonso said of Thatcher. "It's important to see the war through a movie and see what kind of legacy this kind of character leaves behind."
Tensions between Britain and Argentina have been stirred again in recent months by oil exploration in the Falklands. Britain's decision to send one of its most sophisticated warships to the islands has also reopened old wounds, though a new armed conflict seems unthinkable.
In a war of words, President Cristina Fernandez has described Britain as a "crass colonial power in decline" while Cameron has accused Argentina of colonialism and vowed to protect the islands.
As "The Iron Lady" opened in Argentine cinemas on Thursday, Britain's Prince William landed in the Falklands for a military tour of duty.
His posting as a search-and-rescue pilot has inflamed passions ahead of the 30th anniversary of the war, in which around 650 Argentine and 255 British troops were killed.
A youth group that sympathizes with Argentina's government burned the Union Jack in front of the British embassy on Thursday while others threw paint at the glass doors of a British-owned bank.
"Every war is a mistake," Melissa Coliva, 25, a clothes designer said as she walked out of a cinema in Buenos Aires. "As Thatcher said: 'The only battle worth fighting for is the one we fight every day of our lives'," Coliva said broadly quoting a scene from "The Iron Lady."
Follow Emirates 24|7 on Google News.