The Grammys celebrate Prince as late icon heads to streaming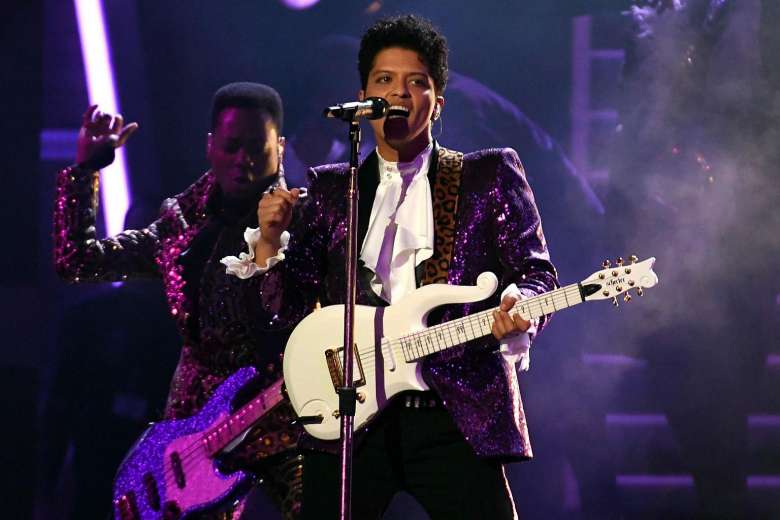 Bruno Mars channelled Prince on Sunday at the Grammy Awards with an electrifying tribute to the Purple One, as the late pop icon's music returned to major streaming sites.
The tribute on the biggest night on the year for the music establishment - with which Prince long fought - was meant to kickstart a new commercial chapter for the artist who died last April.
Mars put on an uncanny impersonation of Prince, donning a glittering purple jacket and white shirt with a ruffled neck as he played an electric guitar solo to Let's Go Crazy.
The young star at times even appeared to have the same facial expressions as the artist when he took the stage over from The Time, Prince's Minneapolis contemporaries who featured prominently in the 1984 film Purple Rain.
"I kind of hate the reason why we're here but I think it's fitting that we are here," The Time's leader Morris Day told reporters.
He described Prince as "one of the best musicians who ever lived" and hailed the performance by Mars. "I don't think there is an artist who could have pulled it off as perfectly as Bruno did," Day said.
Hours before the announcement, Prince's albums on Warner Brother Records came onto all streaming sites including Spotify and the services of Apple and Amazon. "We're honoured to bring back the work of such a legendary artist to music lovers everywhere," Spotify, the world's largest streaming site, said in a statement.
Prince had a famously turbulent relationship with record labels and the Internet, which he accused of putting artists into virtual slavery.
Late in his career the pop icon withdrew his catalogue from all streaming sites except Jay Z's upstart Tidal, which he credited with granting him the freedom to release music quickly.
Tidal remains the sole service to stream all of Prince's works.
The new streaming deal pertains only to the artist's work on Warner - which he exited in the mid-1990s after writing "slave" on his cheek and changing his name to the unpronounceable "love symbol" to protest his contractual conditions.
But Warner has Prince's best-selling albums including Purple Rain and 1999 as well as two albums he put out simultaneously in 2014.
The streaming absence of Prince's more recent works will likely be short-lived, as his estate last week signed a deal with Warner's rival Universal for rights to works which the Purple One put on his own New Power Generation imprint from 1995.
Universal also gained rights to the legendary vault of unreleased material at Prince's Paisley Park estate - which the artist had teasingly said may include his best songs.
Prince, who died from an accidental overdose of powerful painkillers, had experimented with new ways to release music including through Tidal and by distributing a complimentary CD in European newspapers.
Prince's estate has made clear it wants to do more to monetise his music, although financial details were not disclosed for the streaming deal.
Warner also gave more details on its planned reissue of Purple Rain. It said the remastered work would come out on June 9, shortly after what would have been Prince's 59th birthday, and include two additional albums worth of unreleased material.
"Prince recorded his most influential and popular music during his time with Warner Brothers and we are deeply aware of our responsibility to safeguard and nurture his incredible legacy," Warner chairman and chief executive officer Cameron Strang said in a statement.
Tidal has been engaged in a legal battle over the rights to Prince's music. Tidal had released his final two albums, HitnRun Phase One and HitnRun Phase Two. Few major artists retain full or partial boycotts of streaming. Music of The Beatles came to streaming sites on Christmas Eve in 2015.
Streaming has rapidly increased in recent years, with the number of subscribers to services more than doubling in the United States last year alone.
Follow Emirates 24|7 on Google News.