'The King's Speech' leads way in BAFTA nominations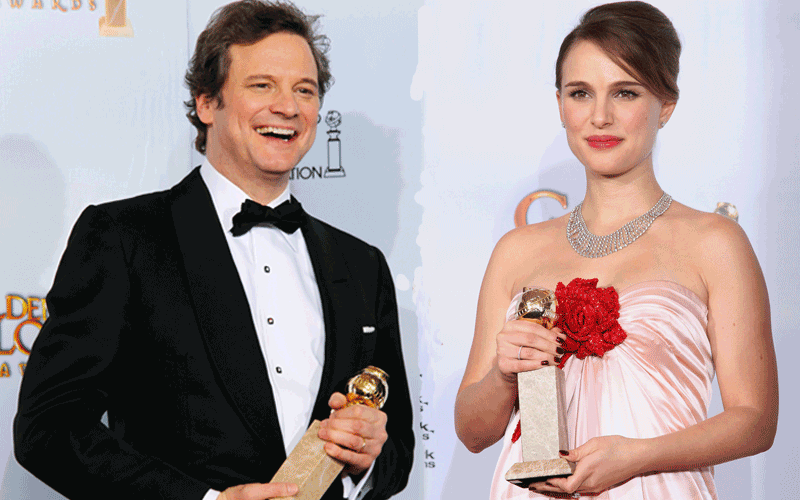 Colin Firth and Natalie Portman could replicate their best actor Golden Globe success at the BAFTAs, after they were both nominated Tuesday for Britain's top film awards.

Their respective movies, 'The King's Speech' and 'Black Swan', topped the nominations, with the study of King George VI's battle with his stammer receiving 14 and the ballet drama earning 12.

Thriller 'Inception', starring Leonardo DiCaprio, follows with nine nominations, while director Danny Boyle's rock-climbing film '127 Hours' and 'True Grit', the Coen brothers' movie, are in eight categories.

'The Social Network', the blockbuster about the founding of Facebook which won the most Golden Globes on Sunday, including best picture, is up for six gongs.

'Alice In Wonderland' has five BAFTA nominations, while 'The Kids Are All Right', about a lesbian couple and their children, and British film 'Made In Dagenham', have four apiece.

'The Fighter', 'The Girl With The Dragon Tattoo' and 'Toy Story 3' each received three nominations.

The BAFTAs could be a chance for 'The King's Speech' to regain some momentum ahead of the Oscars, awarded this year on February 27.

The film was nominated for seven Golden Globes but walked away with only Firth's gong. By contrast, 'The Social Network' won four of the six categories it was nominated in.

While the Golden Globes are traditionally seen as a pointer to the Oscars, the BAFTAs were shifted in 2002 from their April/May slot to add to their weight.

Firth is up against Javier Bardem ('Biutiful'), Jeff Bridges ('True Grit'), Jesse Eisenberg ('The Social Network') and James Franco ('127 Hours') for the leading actor gong.

Meanwhile Portman takes on Annette Bening and Julianne Moore from 'The Kids Are All Right', Noomi Rapace ('The Girl with the Dragon Tattoo') and Hailee Steinfeld ('True Grit').

The nominations for best film were 'Black Swan', 'Inception', 'The King's Speech', 'The Social Network' and 'True Grit'.

The best British film award will be disputed between '127 Hours', 'Another Year', 'Four Lions', 'The King's Speech' and 'Made in Dagenham'.

British character actor Pete Postlethwaite, who died on January 2 aged 64, is nominated in the best supporting actor category for his performance as crime boss Fergie the Florist in 'The Town'.

Mysterious graffiti artist Banksy is up for outstanding debut by a British writer, director or producer for his faux documentary 'Exit Through The Gift Shop'.

The British Academy of Film and Television Arts awards ceremony, hosted again this year by broadcaster Jonathan Ross, takes place at the Royal Opera House in London on February 13.
Follow Emirates 24|7 on Google News.