UAE filmmakers battle social, financial issues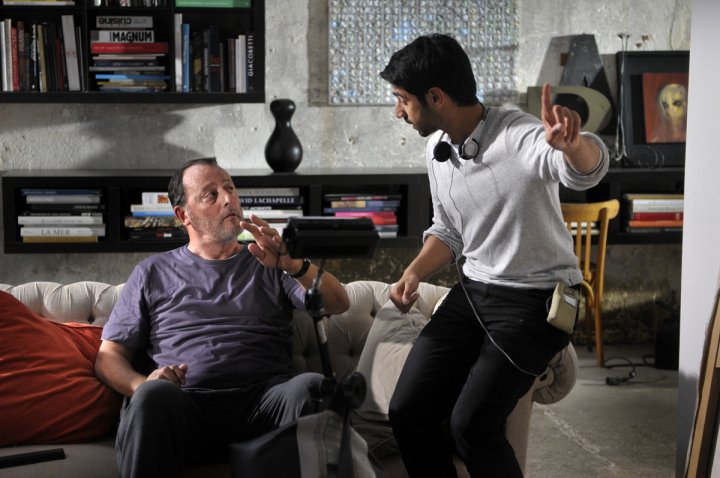 Beyond all the hype and the red carpet mayhem, beyond Colin Firth and the rest of the international contingent whizzing into Dubai, beyond the navel-gazing debates about the place of critics in a brave new socially networked world, lies the real story of this year's Dubai International Film Festival.
And that is the emergence of what can for the first time properly be called a UAE film industry.
Universal stories
Fourteen films made by UAE nationals, including features, shorts and documentaries, are competing for a new Emirati-only award at the festival this year, with cash prizes ranging between Dh15,000 and Dh35,000. But onlookers tempted to dismiss them as amateur garbage might be surprised at their incredible diversity and at the window they offer into the lives of UAE residents. From arranged marriages and herabalistic shamans to gut-wrenching responses to the region's volatile politics, this first crop of talents wrestle with issues that are both deeply personal and universally resonant.
"Finally, stories are being told about the Emirati experience," says Masoud Amralla Al Ali, Artistic Director of the festival. "We have students, professionals, experienced and first-time directors competing, and they are finally making quality films – and by quality I don't mean technical expertise, because that is easy to achieve, but in terms of story.
"These directors are telling stories from our culture and our heritage and they're talking to communities all over. Emiratis are now making films in India, in France, in Palestine and several other parts of the Arab world – and in doing so, helping to bridge the gap between the various communities in the UAE. Expatriate residents and nationals are two very distinct communities that almost don't interact with each other – but cinema can bring us together."
"City of Life', which is perhaps the most famous film to be made in the UAE, did just that last year, when director Ali F Mostafa premiered it at the festival. A slice-of-life movie about Dubai, it has now been distributed around the Middle East with agreements for Europe and the USA reportedly already in place.
This year's gala, "The Philosopher", a 17-minute production is the story of a bon vivant who gives up all his material possessions for a life of aesthetic contemplation was made by Abdulla Al Kaabi, and stars French star Jean Reno -- an achievement in itself. Also part of the film is an ensemble crew that has worked with Hitchcock, Welles and other cinematic legends, a frankly rather remarkable achievement for a 24-year-old film student.
International exposure
The talent, then, is here. Al Ali says between 80 to 90 films are currently being made in the UAE each year, including student projects and professional ventures, and about 70 per cent of those are being made by Emirati nationals.
The 14 Emirati films in the festival this year were chosen from over 30 applicants, he says, and are an indication of the growing interest in making movies in a country where filmmaking facilities were unavailable a few years ago.
"Compared to 10 years ago, it's gotten a lot easier to make movies in the UAE. We are now able to compete in international festivals, so the scene has developed substantially," says Khalid Al Mahmood, 36, whose 20-minute short, "Sabeel", about two boys in Ras Al Khaimah who must sell vegetables so they can afford to medicines for their ailing grandmother, premiered at the Locarno Film Festival in Switzerland this summer. (In fact, so strongly does Al Mahmood believe in his movie, that he has entered it into competition for the Muhr Arab Short, to see how it stands against 15 other films made by Arabs in the UK, France, Canada and elsewhere.)
One of the ways things have changed, he says, is a wider availability of funding sources. "Earlier you'd spend everything from your own pockets. Now with the Emirates Foundation, that has definitely helped us make our films," he says.
Forty-eight-year-old documentary maker Nujoom Al Ganem agrees. Her 63-minute film, "Hamama", which debuts at DIFF, is a look at how life in the Emirates has changed in recent decades, as viewed through the eyes of a 90-year-old traditional healer in Sharjah's Al Dhaid district. "It was different when we started out in the nineties and it's a lot better now," she says.
Funding for her last film, "Al Mureed", only came through on the death of the Sufi leader whose story she was telling. "That's when people realised they'd lost a great man and were willing to fund it," she says. "It took five years to finish because the money came in chunks."
This time around, she's been able to tap a variety of sources more easily, including DIFF's post-production fund Enjaaz, and the Dubai Entertainment and Media Organisation. "Hamama", she says, took just under a year to finish.
More courses are now being offered within the country, both as part of media studies diplomas and as shorter-term modules, such as those taught by the Abu Dhabi branch of the New York Film Academy. But even here, Al Ghanem says, much remains to be done. "Students in these courses are often being trained to take a commercial approach to their work, to think commercially and to produce films for corporations. But that doesn't work for everyone --especially not for documentaries. So we need more depth."
The flip side is that the wider availability of equipment and material has helped directors such as TV producer Rashid Al Marri, 24, who spent almost nothing on his film, "Letters to Palestine", but borrowed equipment from his alma mater, Dubai Men's College, to film 21 Arab nationals talking about what Palestine means to them. Arabs are largely unable to travel to the war-torn nation, and many in Gaza and the West Bank believe they have been forgotten by their Arab brothers, whose feelings are explored in the 37-minute documentary.
"We had one camera, we shot over the summer – and were able to use the post-production facilities on campus," he says.
The wider spread of technology means more filmmakers have their own equipment. Moaz Bin Hafez, for instance, made "Hayat Min Sakhar" (Life of Stone) – about a 70-year-old member of one of the UAE's little-understood tribes whose life has been spent quarrying stones from Ras Al Khaimah's mountains to serve as headstones on graves – with his own equipment and by cajoling friends to work for free. Otherwise, he says, the nine-minute short would have cost a minimum of Dh35,000.
Local problems
But inevitably, there's a lot of compromise. Al Mahmood couldn't afford to shoot on 35mm, for instance, because that would require a minimum of Dh200,000. Instead he used some of his own equipment, borrowed the editing suite at work and begged friends to help out. So "Sabeel", which he said could have cost about Dh70,000 to make if he had to pay for everything, was made on much less and on HDCam, a high-definition version of the Digital BetaCam.
And as seen with Al Ghanem's "Al Mureed", topics that don't conform to pre-existing ideas of what makes good cinema aren't going to get made easily. "Nobody wanted to fund a film about a Sufi leader," she says. "Especially the big national companies, who turned to us and said, 'but this is about Sufism'. So as a society, we need more acceptance and awareness.
"There still isn't enough freedom to make the films we want. Not because of official restrictions, but because the people themselves create obstacles – are censoring themselves."
Al Ghanem couldn't make a film about domestic abuse, she says, because women didn't want to "expose themselves and talk about the issue".
"Making a film with a veiled woman is not possible visually – we are artists and we have to reflect our craft, we're not social workers – but even if I would make a film with veiled women, even that would not be acceptable. Or neglected children – that's another issue I couldn't discuss. Documentary makers need to be able to tackle the real issues. So we need more training," she says. "And I hope that Emiratis realise they have to work hard; on themselves and on their work, especially if they want to reach international standards."
For now, there's also need for more money. Nayla Al Khaja, who has become the unwitting poster girl for Emirati cinema, has a 15-minute film, "Malal" (Bored), at this year's festival. Not counting post-production and associated costs, she spent Dh200,000 on what she calls pure film expenses.
But for her next project, a Middle Eastern desert thriller, she's hoping to raise $2 million. Where she finds the money remains to be seen.
Certainly, there's no shortage of funds from government entities. The Abu Dhabi Media Company's $1-billion Imagenation film fund, for instance, is bankrolling Emirati director Nawaf Al-Janahi's second feature, "Sea Shadow", a coming-of-age story about two 16-year-old boys on a journey across the UAE.
And Sanad, the development and film production arm of the Abu Dhabi Film Festival, was launched last year, and was able to bring help three films through to completion in time for screening this October.
Whether the private sector puts its money into films by Emiratis remains the key question – and that will only be answered once more Emirati films are made and are given theatrical releases.
For now, though, DIFF's Al Ali is content that the films are being made at all, and that seven years after DIFF was launched to spur on local talent, that there is even an industry worthy of the name.
IN PICTURES: The stars of the UAE film scene
Follow Emirates 24|7 on Google News.