'Vishwaroopam' row: Kamal Haasan considers leaving India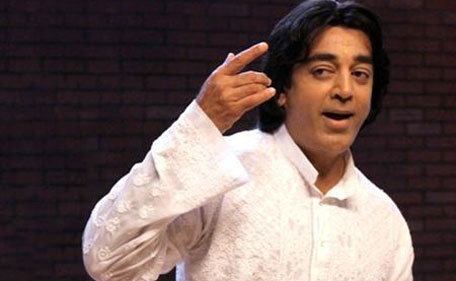 Actor and filmmaker Kamal Haasan on Wednesday threatened to live in exile outside Tamil Nadu, and possibly India, after his film "Vishwaroopam" was forced out of cinemas by the state government and gave rise to a debate on limits to freedom of expression.

"M F Husain had to do it and now Haasan will do it," the 58-year-old filmmaker said in a televised news conference in Chennai, comparing himself to self-exiled painter Maqbool Fida Husain. "I think Tamil Nadu wants me out."

"Vishwaroopam", which was to open in cinemas last Friday, was mired in controversy with certain sections of the society protesting over its alleged depiction of the community in a negative light.

A state government ban on the film's screening last week was overturned by the Madras High Court on Tuesday but was upheld on Wednesday after the Tamil Nadu government appealed the court's ruling.

A visibly emotional Haasan said he was "fed up" and would look for a "secular state" that would "house an artist" like him.

"If I can't find it within India, which I will know in another couple of days, I will find hopefully another country which is secular that might take me in," Haasan said, drawing comparisons to Husain.

Husain, India's best-known artist, fled the country in 2006 and died in exile in London after his depictions of naked goddesses enraged zealots who attacked his house and vandalized shows. For years, galleries in India were too frightened of protests to display his work.

Haasan said he would still consider himself Tamil and an Indian even if he leaves the country.

"Only my passport will change," he said.

Settled amicably?

On Wednesday, Haasan denied that "Vishwaroopam" was against any community and said the matter has been "settled amicably" with the protesting groups after he agreed to cut certain scenes from the film, including words from a Holy Book.

"The film is not anti-Indian Muslim, it's pro-Indian Muslim," Haasan told reporters, flanked by leaders of Muslim groups.

"I have many fans who are also Muslims and they are with us," the filmmaker said later in the evening, appealing for calm and asking fans to wait for the court's final ruling.

Television news debates on the controversy raised questions over the Indian censor board's authority to clear a film for screening and interference by state governments.

The Central Board of Film Certification (CBFC) had approved "Vishwaroopam" for release and its chief Leela Samson said the row "amounts really to hounding".

"I cannot stress how detrimental it is to all future films, for all artistic expression, for secularism and CBFC will definitely take it up," Samson told CNN-IBN news channel.
Follow Emirates 24|7 on Google News.