What is Michael Bublé's Dubai bucketlist? You will never guess...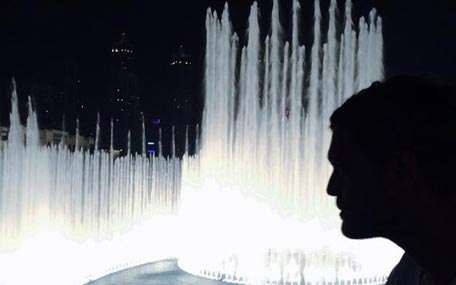 Tom Cruise chose to hunker down on the Burj Khalifa spire for photographic keepsake; right after he swung around in a harness outside the window of the world's tallest building for 'Mission Impossible' film shoot.
Roger Federer and Andre Agassi took tennis to dizzying heights when they chose to play a friendly on the Burj Al Arab helipad.
Quiz the four-time Grammy winner Michael Bublé about his Dubai bucketlist of sights and sounds to discover, the answer would certainly surprise many.
"This is my first time out of the airport [in Dubai]. I am going to go to Chuck-E-cheese. And a five or is it six-star restaurant called The Rainforest Cafe," he revealed. "I've got a little boy. My wife's sister is here with two, her partner has an eight and a six year old. I can't think of any other place which could possibly be more fun.
"And the sad part is, I am more excited than they are."
Bublé, who is performing in the emirate at a two-day concert on Thursday and Friday at the Dubai International Cricket Stadium, also showed keen interest on staying back the Saturday to catch fellow Canadian Drake take to the stage for Louder Entertainment's three-day series of concerts.
He said: "I might stay back to catch Drake perform considering I've never met him and I am really proud that he represents me and my country and is great at what he does in a different genre of music."
Ask Bublé if he interacts with his fellow Canadian artistes, and the singer replies in his signature humour: "Drake, Bryan Adams and me, we have a meeting every Tuesday at the neighbourhood Starbucks where we sit for two hours and just apologise to each other.
"Seriously though, Bryan Adams just texted me; and there's Sarah McLachlan who I do see at the Starbucks down the street. As Canadians, we are a nation of observers next to this big country, where we are a sweet little mouse underneath an elephant in the country next to us, but it brings us closer together."
Talking about his two shows in Dubai, the 39-year-old singer said: "With the utmost humility I say that Dubai will get one of the best shows it's ever seen because I am one of the best at what I do and there's no room for humility here."
The singer, who experiments with genres that swing from pop to jazz to soul music, confessed he hates being boxed into a certain genre.
"Nobody wants to be categorised. I fight it every day," comes his candid reply. "I was sold in a certain way. It's a business and this kid has to sell records.
"The reason I can sell two shows in Dubai is that I am lucky enough to be schizophrenic and am able to make records work. I got to be part of continuing legacy of Frank Sinatra and Dean Martin, but I am sitting there on Pop radio with Justin Beiber and Drake."
With songs such as 'Haven't Met You Yet, 'Home', 'Me and Mrs Jones', the king of romantic ballads laughs when quizzed what is the most romantic thing he's done in his life.
"My wife would probably laugh if she heard this," he stated. "But my most romantic moment was not done for the sake of romance. I was in huge trouble. I was a huge idiot. So I got a shoebox, and placed my beaten up Converse shoes from when I was seven years old and filled it with Hersheys Kisses, with a message I would walk a million miles to get kisses from you."
Michael Bublé Live in Concert will take place on Thursday and Friday, with gates opening at 7pm and show to commence at 8.30pm. Tickets are priced from Dh395 up to Dh2,200. Guests must be 16 and over.
Also see: Movie Listings in UAE
Follow Emirates 24|7 on Google News.