Why 'F*ugly' will never be in the same league as Aamir Khan's 'Rang De Basanti'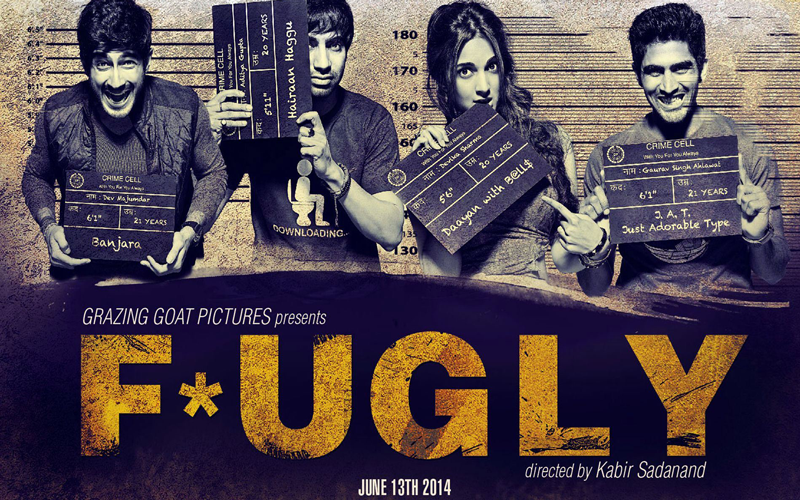 Once upon a time, Bollywood was all about mushy lovers and their musical romances, but today those tales of ever-lasting love and dancing around trees have been sidelined for bromances.

After Farhan Akhtar hit box-office fame with his boy gang in 'Dil Chahta Hai', every filmmaker, including his own sister Zoya, is hopelessly piggybacking on friends and their road trips to make a quick buck.

And, hoping to cash in on it is director Kabir Sadanand. He blatantly lifts scenes from Rakyesh Om Prakash Mehra's 'Rang De Basanti' and spins his own tale, only he ends up with something lacklustre.

Following a money-spinning trend isn't baulked at in an industry that has relied only on passionate love affairs, coloured with peppy dance numbers, for so many years. But, if you had to imitate, you would at least need the talent to back it up.

With a body of work that displays absurd titles like 'Pop Corn Khao Mast Ho Jao' and 'Good Boy, Bad Boy', and a few acting escapades that appear tacky, it's clear why Kabir leaves his inglorious foursome without much to do.

Set in Delhi, where everyone's tongue is rustic and every baddie is named absurdly, the four pals – a midriff flaunting babe included for novelty – are left to fumble and mumble over two hours of screen time. The lack of any coherent plan leaves us rather weary.

Yet, we obediently watch the group living life on the fast lane, and partying all night long to inane sound tracks.

The party pooper appears in the form of the grouchy cop from hell Chautala, who murders at whim and manipulates the gang into cleaning up his mess.

With a clincher of a curtain-raiser, we thought Kabir might just spring a surprise. But alas, it was not to be.

He, with the (incompetent) backing from writer Rahul Handa, attempts the impossible: to revive the patriotism that 'Rang De Basanti' (RDB) flourished on through his frames. The outcome is preposterous.

So, while there are four guys and one girl in Mehra's original, Kabir's got three guys and one girl.

There's a minister's son in 'RDB', and there's one in 'F*ugly'.

Even the distrust among the friends over the minister's son's involvement is played out in the copy.

'RDB' boys sacrifice their lives in their fight against political intolerance, while only one from 'F*ugly' does the deed. "If I can't achieve it, then you follow," he says. Surely they've learnt their lesson from the 'RDB' boys and didn't want to kill the political bigwigs and turn them into martyrs.

The poignant scene from Mehra's drama where DJ and Karan sit huddled together as the military shoots bullets in their direction leaves us chocked each time. Kabir, in fact, kills it with one buddy telling the other; "Don't look at me like that, people might misunderstand".

At another time, a nation erupts in support after watching a live telecast of a man's two-hour-long accusations against a corrupt cop.

Clearly, subtly and sensitivity, apart from originality, are not Kabir's forte.

The absurd title gets a mention in a line, when the lady screams; "It's Fugly out there!" and a soundtrack dedicated to it entirely in Yo Yo Honey Singh's voice. That none of it makes sense doesn't really bother us, because that's the least of the troubles with Kabir's attempt at a "thriller".

Among other things, 'F*ugly' also talks about women's safety and how "eve-teasing has become a national obsession", but beyond a point, we stop caring.

Seasoned actor Jimmy Shergil is impressive and outshines the rest of the cast, which isn't much, especially since the rest are wooden. Newbies Mohit Marwah, Kiara Advani, Vijendra Singh and Arfi Lamba are pleasing on the eye, but not on our sensibilities.

Mohit's Dev is heavily influenced by Aamir Khan. He treks to Leh's picturesque mountains like Aamir did in '3Idiots', and even triggers a revolution like 'RDB'. The performance, unfortunately, is unmatched. Kiara, on the other hand, also finds a Bollywood reference in her resemblance to long-forgotten small-timer Esha Deol. It's their bland performance that sadly matches.

Vijendra Singh abandons his boxing gloves to strip, dance and take potshots at Americans in the most inappropriate manner on celluloid. We'd suggest he stop ruining his sporting image, and skip Bollywood for the boxing ring instead. And, there's Arif who plays the docile boy, without much thought or effort.

With so much going against it, we'd say; "Don't get fugly-ed".

Follow Emirates 24|7 on Google News.