Why Farhan Akhtar may not be a part of 'Don 3'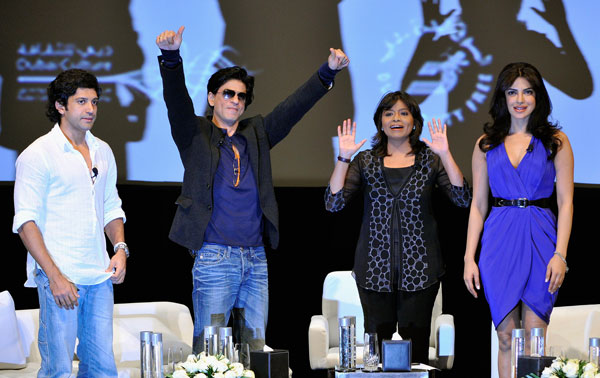 Farhan Akhtar is in a happy phase, both as a director and actor.
While his last few films have done really well at the box office, 'Don 2' has also been well received by the audience, the critics view notwithstanding.
The praises from his peers and such is well-deserving too, after all with 'Don 2', the actor-director introduced a new style of making films.
But prod Farhan about the date of a trilogy and he is quick to say, "Right now, I have no plans for directing 'Don 3', although SRK wants me to get going with the next one as soon as possible."
The reason behind the denial is Farhan's 'acting career' on which he would like to concentrate at the moment.
However, he is quick to praise the one star that made all this possible, Shah Rukh Khan. Admits the 'Rock On' star, "I have a fascination for Shah Rukh Khan.
Once he said yes to the character of Don, which Amitabh Bachchanji had immortalized on screen in the 1978 release, he gave in the best.
With him and the original 'Don' as my storyboard reference, it was easy to create my image of 'Don'.
I couldn't have thought of any other actor other than SRK to essay the role and once he agreed I was relieved. I remember I had taken the blessings of Salim Saab and my father (Javed Akhtar), the co-creators of the original 'Don' before I started shooting of the very first scene.
And while I had quite a few people to bless me and help me through the making, till I have Shah Rukh Khan playing the Don, I am sure I can make as many sequels as I can, however not at the moment."
The actor will be next seen as the Flying Sikh in Rakheysh Mehra's next offering. Opening up about his role, Farhan says, "The film is based on famous Indian athlete Milkha Singh.
I need to prepare for the character I am going to essay in the film. So undoubtedly I need to concentrate on my character and need to do my homework thoroughly."
But coax the actor, who is training hard for the role, in to choosing his favourite between acting and directing and Farhan quips, "I like directing as much as I like acting. But I can't do both at the same time.
When I am acting I would like to concentrate on it exclusively, the same is for directing. I believe that when you have the passion and potentials to show something then show it; don't hesitate as tomorrow will never come.
One must live for the day. Just do your things, even if it may be experimental, you always have the chance to succeed."
Farhan also feels that Indian cinema recently has grown with the times and he is a part of it. "DIL CHAHTA HAI' is a decade old now and yet every time I watch it I feel alive and fresh.
The same is with 'ZIDAGI NA MILEGI DOBARA' (ZMND). My sister and director of the film, Zoya purposely kept the pace of the film slow so that the audience could take in the dialogue and feel the feelings shared between real friends.
It was this 'feel' factor that eventually worked for the film and made it a hit. If you ask me to compare films made on friendship then I feel there should be a DIL CHAHTA HAI or ZINMD every time when we feel, good cinema is the need of the hour. Last year, was also about the re-emergence of action films like 'Singham' and 'Don 2', So I think,
I am going along with the times in Bollywood and am sure 2012 will see bigger, better stories."
But directing and acting are not the only fields that Farhan excels in.
The actor is an equally good husband and doting father who loves to spend his free time, not partying, but joking with his kids and wife."I love doing things that my kids and family would enjoy doing.
I never discuss films at home, especially when my kids are around. Also, whenever I find time, I love to read."
Follow Emirates 24|7 on Google News.